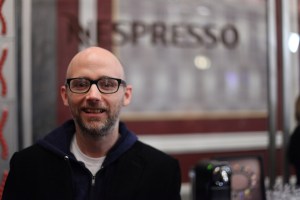 For a while there, it seemed as though every time you turned on a Toyota commercial or ate vegan food downtown, you couldn't help but hear an atmospheric synthesizer and processed vocals telling you "we rock the party" or whatever. This was thanks to Moby. Love him or hate him, the bespectacled, very bald musician made techno mainstream. And then he went from being unlikely superstar, gallivanting in videos with Gwen Stefani and her ilk, to favored pet of Upper East Side socialites.
It was kind of confusing. What was this unassuming electronic specialist doing running around to parties with models and fashion designers attached to his arm? Surely it wasn't just because they dug his 1999 breakthrough, Play (which sold 10 million copies, making it the best-selling electronic album of all time)? No, Moby represented something to them: Someone famous, accessible but untacky. He was a novelty.
"I had all of these strange opportunities," Moby told The Observer in his home recording studio on the border of Little Italy recently, "to date glamorous people that I would have never been able to date before; to go to fantastic celebrity parties that I'd never been invited to before." He removed his thick plastic glasses and sat at his kitchen table, binge-drinking tea, his signature beverage (the Lower East Side vegan restaurant he founded, Teany, was destroyed by fire last June). "I felt like a kid in a candy store, grabbing everything I could."
With his new album, Wait for Me, Moby asserts definitively that those days are over. The huge bombast of Play has faded out, leaving dark, slow, quiet music in its wake. If there's a pop song to be found on the album, it's buried underneath layers of melancholy. Moby recorded all of it in his private studio, and it is his way of bowing out of the celebrity world.
"I was making a record at home for other people to listen to at home," he said.
Inside the apartment, reminders of his supernova flash of stardom are everywhere: Gold and platinum records hung on the wall; a mantel was lined with MTV Video Music awards; stacks of old Casio synthesizers and analog drum machines lay across the floor. Moby himself was wearing wrinkled cargo pants and a white T-shirt. He's not tall, and not too short; his shiny head contains friendly eyes that smile at you, even though his mouth never once curls up into a grin. He doesn't look like a rock star.
"People assume that somehow fame and wealth will keep mortality at bay," he said, scooting over to the sink to pour another cup of tea. "I often think of Nirvana. If Nirvana had remained a small, underground punk rock band, Kurt Cobain would still be alive. And he'd probably be living in Seattle, getting kind of fat and balding, be relatively happy and producing records for other people."
But Kurt Cobain was shooting heroin long before he was famous, The Observer reminded Moby.
Still! "The more fame I had, the less happiness I had," he said. "For me, there had to be that conscious moving away from the institutions of fame."
It took a while. The artist's last two albums, 2005's Hotel and 2008's Last Night, were filled with club-ready dreck. Moby was going through the motions and didn't seem to have any reservations about his new role as Page Six fodder.
"I wanted to make records that would sustain the life I was living," he said.
It was David Lynch, of all people, that inspired Moby to rethink his new life as celebrity candy. That's right: The eccentric, pompadour-sporting director of Eraserhead is responsible for stirring this musician to record one of the most depressing albums of the decad,e in a bold attempt to drop out of the fame game. In October 2007, Moby heard Mr. Lynch speak about the creative process at the British Academy for Film and Television Arts. Mr. Lynch's earnest presentation prompted an epiphany, Moby said: Ditch the models for the keyboards and get back to making music. So don't expect to see him at any red-carpet events any time soon, bucko.
"I'm 44 years old. If I'm trying to be a pop star, that's just tragic," Moby said, and he almost smiled. Almost.