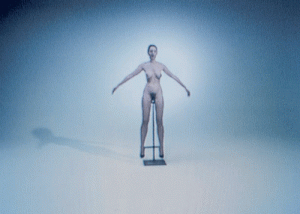 In yesterday's paper, Leon Neyfakh considered the problem of yogurt lids.
But the Gabriel Orozco retrospective is only one of several upcoming MoMA shows to interrogate the conventional art object: there's "The New Typography" (design: too commercial?), Mirage by Joan Jonas (video: not commercial enough?), and a lifetime retrospective for Marina Abramovic, the self-described grandmother of performance art, whose work produces nothing that can be readily commodified unless you are equipped to bottle badass.
Abramovic has spent the last couple decades burning her fingernail clippings, challenging gallerygoers to shoot her, and locking mouth-to-mouth with her life/artistic partner until both passed out from carbon dioxide poisoning. Most recently she recreated seven famous performance pieces by people like Bruce Nauman and Joseph Beuys at the Guggenheim (Seven Easy Pieces, 2005).
Tonight, she's talking about Jung at the Rubin Museum of Art as part of their ongoing "Red Book Dialogues." Five bucks says her take is weirder than that of Adam Gopnik, up next week.