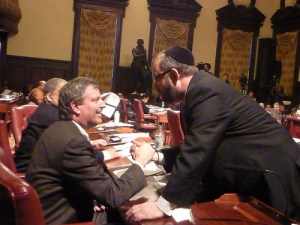 On the federal health care bill, Michael Bloomberg said, "It will be very devastating to health care in this city."
"It is really a disgrace and we've got to make sure that we fight before the bill is finally passed," Bloomberg said.
The Times lead editorial says "There is a lot to like in the bill."
Bloomberg's criticism of Robert Morgenthau's hidden bank accounts have "boomeranged," and now the mayor is coming under fire from Bill Thompson and John Liu.
Steve Behar, Michael Sais and Vince Tabone get their names floated for an Assembly seat in Queens.
In opposing the Sean Bell street renaming, Eric Ulrich said, "I don't believe his life or his death was heroic."
"A City Council that places a man who nearly ran over police officers in the same category as heroes who risk their lives for us all every day needs to no longer have the authority to do street renaming," said Vinny Ignizio.
Sean Bell, and James Sanders, get the wood of Metro.
The plan for Broadway Triangle was approved.
The mayor's veto of the City Council's decision on the Kingsbridge Armory plan was overridden.
The mayor's veto of the five-minute grace period was overridden.
The new fire commissioner is above the fold in the Advance.
And pictured above is Simcha Felder congratulating Bill de Blasio, the public advocate-elect, during their City Council meeting.