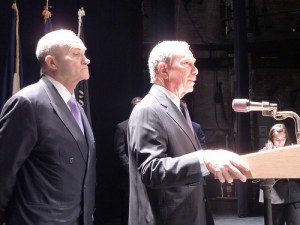 DC1707 endorsed Kirsten Gillibrand [corrected].
The crime rate is really low this year.
The city's record-low murder rate is "an indisputable measure of progress," said Michael Bloomberg.
Bloomberg reminded people that many expected crime to rise during the recession.
Bloomberg signed a bill renaming a street after Sean Bell.
Bell's fiance told Bloomberg it was a "small symbol of justice."
Critics fear the city's plan to fund a new park in Queens through a new housing development.
Richard Lipsky piles on Greg Meeks.
The guy who ousted Tom Suozzi gets some a profile in The Times (and a PBS piece is in the works!).
Margaret Chin sang "Rudolph the Red Nosed Reindeer" at the Council's holiday party.
Barack Obama's budget director got engaged to a reporter for ABC News.
Bo Dietl has David Paterson's back.
Suzannah B. Troy wants to attend Bloomberg's inauguration without getting arrested.
Roger Clark, such a nice guy.
The Post can't help itself: the edit page fondly remembers Percy Sutton, along with some marks on his record they are less fond of.
The Financial Times gives Obama a mixed grade on his first year in office.

Bob Herbert says the Senate health care bill will hurt the middle class.

Clyde Haberman doesn't predict the future.
Errol Louis can't wait for next year.
It's hard interviewing presidential wannabes, even for Harvard journalists.
And at the five-minute mark in this video posted yesterday, an N.R.A. spokesman happily says Bloomberg's group, "Mayors Against Illegal Guns," started with 463 mayors, but now has 401.