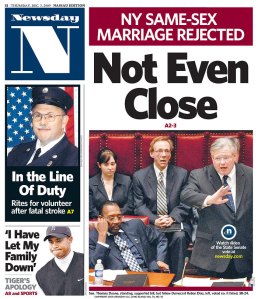 Josh Robin explains: "Republicans, the thinking goes, could have been persuaded to go along, but not if eight Democrats weren't."
Ameriblog: "I suspect those GOPers bailed once it became clear the bill was going down. They didn't want to be the next Dede Scozzafava for a losing cause."
Log Cabin Republicans: "We are deeply saddened that the Democratic Conference failed to secure the votes they promised."
The lede in Hamodia: "The Torah community gave a collective sigh of relief yesterday."
El Diario: "this is not the issue that New Yorkers are obsessed with opposing—rather, they are losing sleep over maintaining their families during this economic recession."
Larry Littlefield said the same-sex marriage vote took place to distract from other, more controversial votes that took place yesterday.
Michael Bloomberg and Robert Morgenthau are fighting over money. "The mayor has difficulty in accepting the fact that there are any people in the city that do not report to him and take orders from him," Morgenthau said.
Bloomberg is going to Copenhagen.
Bill Thompson returned some money to David Paterson.
Crain's has more on Robert Jackson's fight to get a vote for his bill.
Edward-Isaac Dovere, part four.
Charles Barron and Jeffrey Wiesenfeld, still feuding.
James Sanders fights a local strip club.
The Times says four city schools will be shut down.
The Daily News says three. Also, one of the schools was given $180,000 in bonuses for performance.
A Rockland County legislator has been found ineligible to vote in local elections, and may be barred from serving in office.
Pedro Espada's new chief of staff: Tom Mansfield.
The Long Island Press meets the guy who defeated Tom Suozzi.
Glenn Thrush sees everything in Washington.
Tonight, the D.C.C.C. has a fund-raiser at the Greenwich Hotel.
Eric Schneiderman fund-raises at Richard Emery's home.
Danny Dromm has a party at Natives.