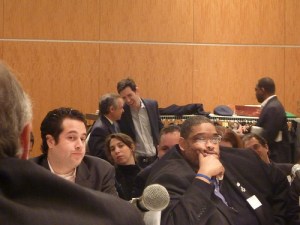 Election workers haven't been paid yet.
David Seifman reads the Mayor's Management Report: "At the Economic Development Corp., every single one of six indicators headed south."
Jim Dwyer on Michael Bloomberg: "[A] strong argument can also be made that on a personal level, he ranks among the worst individual polluters ever to hold public office."
The City Council will ease parking rules.
Mylan Denerstein may lead the F.D.N.Y.
The Board of Elections will eventually pick new voting machines.
Attention Peter Vallone Jr. : kids really do get too much homework.
"Hi. I'm Ashley Dupre. I used to be on the front page of the New York Post. Now, I'm writing for it."
A family court judge ripped up (and mailed back!) a letter written by Tony Avella.
Joe Maniscalco hears a hypothetical argument for eliminating community boards.
Europeans complain to E.J. Dionne, Jr. that Obama "seemed to promise the impossible, and because he was so eloquent, we believed him."
Stu Loeser wears Puma, for safety.
Adam Lisberg has a nice view in Copenhagen.
Howard Wolfson wonders if the Daily News has expanded.
Tonight, the Working Families Party holiday gala is taking place at the 32BJ building.
Linda Rosenthal is hosting a holiday party at 5 p.m.
Tom DiNapoli has an event at Country Restaurant at 6 p.m.
Eric Dinallo is raising money at William Esposito's house.
Downtown Independent Democrats start partying at O'Hara's at 6:15.
The Brian Kavanagh holiday cocktails start flowing at 6:30.
The Lenox Hill Democratic Club's festivities also begin at 6:30.
The New York Democratic Lawyers want everyone at their party at Red Sky Lounge.
And above are John Liu campaign aides Josh Gold and Kevin Wardally getting serious, while rivals Eddie Castell and Bradley Tusk have a laugh during a recent event at The New School.