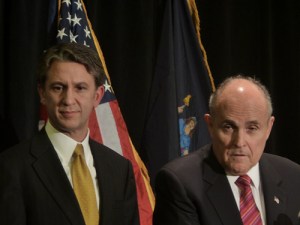 Chuck Schumer plays defense on health care.
David Halbfinger asks: Where are the big-name Republicans nowadays?
Classic Michael Powell: "From president to governor to senator, the list of powerful offices that the man, former Mayor Rudolph W. Giuliani, once dreamed of capturing is long, and his longing now seems likely to go unrequited."
Newsday imagines who'll fill the power vacuum for Republicans.

Michael Bloomberg spends another Sunday on a talk show with an appearance on Meet the Press this week.
Joel Klein and Michael Bloomberg "steamrolled" Randi Weingarten, says The American Spectator.
Peter Koo: "Flushing has been very nice to me."
Marty Needelman tells Aaron Short, "We are committed to non-violence as long as humanly possible."
I and a few others make predictions for 2010.
Hopefully, it's more accurate than last year.
The Post seems happy with the new fire commissioner.
Julissa Ferreras and Danny Dromm extend the Kingsbridge Armory fight to Queens Center Mall.
And pictured above is Rick Lazio and Rudy Giuliani, yesterday.