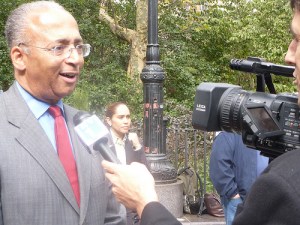 Barack Obama wants 34,000 troops for Afghanistan.
Liberals are not happy.
The Post edit page urges Bill Thompson to challenge Kirsten Gilibrand, saying, "Run, Billy, run!"
Thompson has $531,975 in fines for illegal signs. John Liu has $543,900.
The promotion of Cas Holloway "seemed to reinforce the growing influence of Mr. Skyler." Also, this: "The mayor's aides seemed especially sensitive to questions about Mr. Holloway's lack of environmental experience, and on Monday afternoon they asked several people to call The New York Times and praise Mr. Holloway's record, the people said."
The departure from Washington of the man Bloomberg hired to run the Department of Probation draws one parting shot from a police union official there. "D.C. is now safer, and New York is a little less safe."
Rep. Mike McMahon is considering opposing the Defense of Marriage Act.
Clyde Haberman enters the Twilight Zone, via 61st Street: " 'The doorman is a counterterror agent?' I asked. 'Yes sir,' he said."
A writer at HipHopWired.com wants to get rid of Rep. Charlie Rangel.
Edward-Isaac Dovere says the Working Families Party listens more to member organizations that contribute more money to them.
Tom Suozzi is trailing by 237 votes at the end of the recount.
Dave Mejias conceded.
Real police officers use fake badges.
A contractor gets three months in jail for bribing Brian McLaughlin.
Jacob Gershman looks at ACORN schools.
Greg Ball knows the White House party crashers.
140 people who don't live in Sullivan County full-time are voting there.
Howard Wolfson, movie critic.
Alex Zablocki, campaign critic.
Behind Lou Dobbs, Ed Rollins.