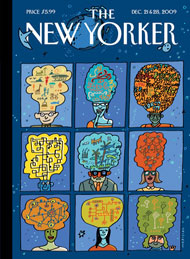 The New Yorker has decided to cut its second yearly fiction issue, Women's Wear Daily reported today.
"I think one is enough for the time being," David Remnick told WWD. "We'll still continue to publish fiction every week. I think we're one of the last magazines that does."
Instead of the fiction issue, the magazine will be publishing a special on "world changers," like a technology initiative in China. Advertisers apparently "prefer the new idea;" ad pages for the issue were up more than 50 percent.
But what of the literary world? Would one, in fact, be enough?
Peter Matthiessen, co-founder of The Paris Review, told The Observer that he was "sorry to hear about" the decision, since there were "so few outlets" for fiction. He noted that it couldn't reflect a dearth of material, since The Paris Review still receives plenty of stories.
Knopf Doubleday editor Gerry Howard said he remembered the not-too-distant days when The New Yorker's Debut Fiction issue "was like getting a ticket to a book contract."
A declining emphasis on fiction at the magazine was "not a great thing," but he pointed out that the publishing industry has "bigger problems."
"I don't think it's the end of the world," Howard said. "I think the end of the world is arriving either on an asteroid or some kind of e-reader."