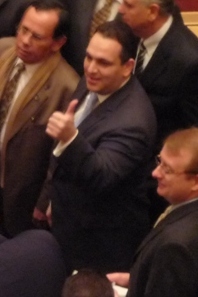 ALBANY—NY1 just reported that State Senator Hiram Monserrate, convicted of misdemeanor assault for recklessly causing physical injury to his girlfriend during a domestic dispute over a year ago, was sentenced to three years of supervised probation. He will not serve jail time.
The ruling was made by Queens Supreme Court Justice William Erlbaum. Earlier, prosecutors had made a request that Monserrate be sentenced to sixty days in jail in addition to the probation. Monserrate will be required to perform 250 hours of community service, according to NY1. An order of protection keeping him from contacting–or marrying–the woman he is accused of assaulting remains in place, according to NY1.
Mike Nieves, an aide to Monserrate, said attornies will file a notice they plan to appeal the decision later today.
Monserrate is also facing an inquisition into the incident by a State Senate planel chaired by Senator Eric Schneiderman. After the panel's report, Monserrate could be expelled from the chamber." And already, Queens Democratic leaders are coalescing behind Assemblyman Jose Peralta, who has declared he will make a primary run against Monserrate.
"A court of law has now ruled and we respect the decision rendered by the justice system," said Austin Shafran, spokesman for the Senate Majority Conference. "The Senate's Special Committee of Inquiry will continue to conduct an expeditious review of the facts, past precedent, and all relevant law to establish the proper procedures and identify the remedies available to the Senate. Following the completion of its investigation, the committee will report to the Senate with its recommendations."
The lack of jail time facilitates the business of the Senate, which is due back in session in January. Democrats need Monserrate's vote to maintain a slim majority; this fact, however, has not stopped several Democratic senators from calling for Monserrate's resignation. Still other senators, particularly in the "amigos" faction, have supported Monserrate.
Senator Marty Golden, a Brooklyn Republican who is the go-to Monserrate critic, told me the sentence was a "shame."
"He belongs in jail," Golden said. "The judicial system sent the wrong message to people of Queens, the state of New York, and especially to the women across this state. He brutalized her, he was found guilty, and he should have served time for it."
"Do you really think that if he was not a state senator he would have gotten off with no jail time?" Golden, a retired NYPD officer, added. "This is real thuggery. I'm appalled at the system. I think a regular guy would have done time."