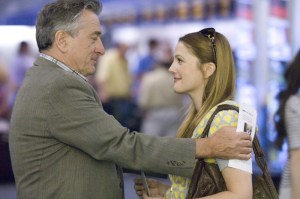 Everybody's Fine
Running time 100 minutes
Written and directed by Kirk Jones
Starring Robert De Niro, Drew Barrymore, Sam Rockwell, Kate Beckinsale
The week's second remake (never a good idea) is Everybody's Fine, an Americanization of Giuseppe Tornatore's Italian comedy Stanno tutti Bene. Originally, Marcello Mastroianni played a retired bureaucrat who discovers his five children are strangers he's never known. The role now goes to Robert De Niro as Frank Goode, a widowed father of four with lung disease from a blue-collar job coating telephone wires. He was never close to his kids, but now that their mother is no longer around to solve their problems and share their secrets, he longs to make up for lost time. Happy that they're planning to pay him a weekend visit, he makes plans. One by one, they cancel. And one by one, he goes looking for them. Thus begins an offbeat but predictable holiday movie about a dysfunctional family that learns to bond before it's too late.
Packing up his keys, prescriptions and camera, Frank heads for New York, where his son David is an artist. But David is not home, so he spends the night on the cold front steps. The next day he takes a bus to Chicago to see daughter Amy (Kate Beckinsale), an advertising executive with a mopey, sad-sack son and a husband who makes a formal appearance just to hide a marriage on the rocks. Amy is too busy to let him stay, so Frank moves on to Denver, where he thinks son Robert (Sam Rockwell) is a symphony conductor. Robert is really only a percussionist in the orchestra; he makes up a story about flying to Europe that afternoon. He's actually got nothing to do, but he lies to avoid any kind of uncomfortable father-son intimacy. In Denver, Frank makes the mistake of befriending a homeless kid who robs him and smashes the bottle containing his vital medication; then he misses his bus and hitches a ride with a lady truck driver to Las Vegas to see youngest daughter Rosie (Drew Barrymore), a dancer who spares him the fact that she's a lesbian with a baby to raise. What Frank learns is that doesn't know his children any better as adults than he did when they were children.
Wherever he goes, Frank asks, "Are you happy?" They all leave him with the impression that everybody's fine. The truth is, they all have their own challenges, just like everyone else, and it takes an entire movie before they stage a contrived family reunion better suited to a glorified TV "Hallmark Hall of Fame" Christmas special. Still, Mr. De Niro is convincing and humane as a simple man who wants to be a good father but doesn't know how. He's not mean, selfish, demanding or judgmental. He just wants his kids to confide in him, without realizing he's never been easy to talk to. He's an accomplished actor who has been sleepwalking through films for such a long time that we've forgotten how to take him seriously, and it's a pleasure to see him feeling his way through a role again, moment by moment. His scenes with Drew Barrymore have exceptional sincerity. Everyone works well under the perfunctory direction of Kirk Jones, but even with an easily resolved fade-out replete with turkey and cranberry sauce, Everybody's Fine has the look and taste of leftovers.