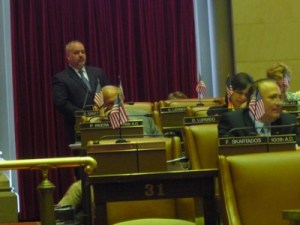 ALBANY—Assemblyman Danny O'Donnell just said his chamber will pass a bill legalizing same-sex marriage tonight. Again.
"It's my understanding we're doing it again today, I believe the Senate will be doing it as well," said Danny O'Donnell, who is openly gay and sponsors the bill in that chamber.
The Assembly has passed the bill twice already; the State Senate has never considered it. Since the houses are in extraordinary session, another vote must be held in both for the measure to be signed into law. It's unclear if there are sufficient votes in the State Senate for the measure to pass, but leaders there have tentatively agreed to consider it.
A Senate source close to the leaders said the plan is to consider the marriage equality legislation "as soon as the deficit reduction plan is passed." That's conspicuously not "tonight." David Paterson–who has pushed for the legislation and says he'll sign it–decried the use of same-sex marriage as a bargaining chip.
But how sure is O'Donnell? His longtime companion, John Banta, is on his way to Albany.