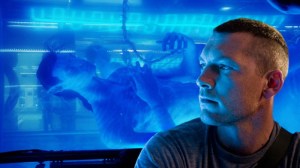 With only thirteen days left in 2009—seriously, where did this year go?—it should come as no surprise that Hollywood is pulling out the big guns. Five films reach theaters today, but all everyone will really care about come Monday is the one with 10-foot tall blue aliens. As we do every Friday, here's a handy guide to the new releases.
Avatar
What's the story: It's so nice that James Cameron, the ostensible King of the World, decided to tackle something small for his follow-up to Titanic. Ha! If you haven't heard of Avatar by now, we can only assume you've just arrived to earth from Pandora. After years of hype and speculation, the 3-D spectacle hits theaters today and—surprise!—apparently delivers on all the hype and speculation. (And, really, when was the last time something like that happened?) The reviews, even from the most hardened critics have been glowing, filled with terms like "awesome" and "beautiful," and it's even drawn comparisons to The Jazz Singer because of its game-changing ability. Here at the Observer, our Sara Vilkomerson sums up Mr. Cameron's latest thusly: "Staggering outside after two hours and 40 minutes of this thing, I felt like I had to lie down and take a nap." Someone get us a pair of 3-D glasses and a blanket, stat!
Who should see it: Watchmen's Dr. Manhattan (he's blue like the Na'vi aliens!)
Nine
What's the story: Nope, this is not "The Tiger Woods Story." Nine, based on the Broadway musical adaptation of Fellini's 8 1/2, comes from Chicago director Rob Marshall and features a cavalcade of female stars ranging from Oscar contenders like the lovely Marion Cotillard and Penelope Cruz to old war horses like Sophia Loren and Dame Judi Dench and everyone in between (Kate Hudson, Fergie, Nicole Kidman). And! As the man these ladies spend the movie orbiting around, the milkshake drinking Daniel Day-Lewis. The reviews for Nine have been mixed, but if you think we're going to pass on the opportunity to see Daniel Plainview sing and dance, you clearly don't know us very well.
Who should see it: Tiger Woods.
Have You Heard About The Morgans?
What's the story: To answer the question posed by the title: unfortunately, yes. This latest bit of romantic comedy pabulum—the type of film we're sure New York Times film critic Manhola Dargis would have an expletive ready for—stars the nominally charming Hugh Grant and Sarah Jessica Parker as a warring Manhattan couple banished to Middle America by the Witness Protection Program. (Don't ask.) And, wouldn't you know it: they fight! And have culture clashes with the locals! And, uh, you might as well just rent The Ugly Truth or The Proposal instead.
Who should see it: Those unlucky enough to get shutout of Avatar showings.
Also opening this weekend: Jeff Bridges gets his Oscar-hype on in the country western drama Crazy Heart; and all hail Emily Blunt as the Queen in The Young Victoria.