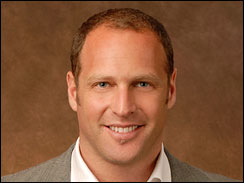 In a group email this morning, Sean McManus, the president of CBS sports and news, informed staff members that CBS Early Show executive producer Zev Shalev would be leaving the network in part to develop a new content project, called NewsTsar, which would launch "in the second quarter of next year."
What's the idea behind NewsTsar?
"My hope is to marry news content with all the social media tools out there, whether it's Twitter or Facebook or even various iPhone apps," Mr. Shalev told The Observer on Wednesday afternoon. "The idea is to try and find a way to blend them into a compelling news gathering and distribution system. More than that I can't really say. It is a baked idea but I don't want to give it away."
Mr. Shalev says that he has no outside funding for the project, nor has he been shopping for investors. "I think this is something I can bootstrap myself," said Mr. Shalev. "There may be a point where we need more funding. But as we all know the Web has a fairly low cost of entry. I'm in a pretty fortunate position for the first time in my life to do this."
Mr. Shalev, 36, who was born in Israel, raised in South Africa and who has spent significant time living in Toronto, says he plans on staying in New York. The NewsTsar project has been in development for several months now, he said. To date, most of the work has been done by contract workers. But at some point he anticipates hiring a full-time staff.
"I think it will be live within six months," said Mr. Shalev. "Hopefully sooner."