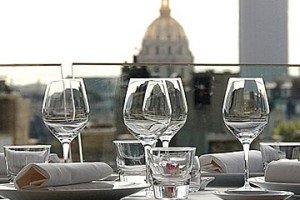 The number of dining options in the City of Lights may be intimidating, but I've rounded up a varied selection for you, from the latest artsy and atmospheric niche finds to opulent culinary temples. Bon appetit!
Nomiya
A super hip and cool art installation—Nomiya is a 12 person restaurant inside a glass paneled box on the roof of the Palais de Tokyo. Chef Gilles Stassart creates an ever changing daily menu … go to the website and you'll read clues about the ingredients that inspire that day's dishes—fun.
www.nomiya.org | Phone: +33 (0)1 47 23 54 58
13 Avenue du President Wilson | Paris, France 75116
La Maison du Caviar
A haven for caviar lovers, Monica and Federico. They like that the focus is on the caviar and that it's not super elegant and pretentious like Caspian. Don't miss the simple baked potato elevated to new heights with caviar.
www.caviar-volga.com | Phone: 33 (0)1 47 23 53 43
21 Rue Quentin-Bauchart | Paris 75008 France
Laduree Bar
Laduree, famous for it's perfectly delicious and vibrantly colored macaroons, has moved beyond sweets and tea and opened a new bar. The neo art nouveau style of the space blends nicely with the menu offerings—blinis, carpaccios and cocktails … especially yum are the macaroon inspired (of course) selections.
www.laduree.com | Phone: +33 (0)1 40 75 08 75
13 Rue Lincoln | Paris 75007 France
Le Voltaire
For an old and traditional Parisian bistro (lots of frites and meats!), my Insiders Monica and Federico love Le Voltaire. The food is excellent and the service is French and it's always bustling with diners.
Phone: +33 (0)1 42 61 17 49
27 Quai Voltaire | Paris 75007 France
Hotel Particulier Secret Bar
In the heart of Montmartre, the Hotel Particulier is a villa-turned-5 suite hotel, that was formerly owned by the Hermes family. So of course it makes perfect sense that there's a cute little secret cocktail bar tucked away inside. Reservations are a must as are the old-school drinks mixed up by the resident NYC bartender. "Between the Sheets" is one of his best … take it easy after your first … Come for brunch on Friday, Saturday and Sunday.
www.hotel-particulier-montmartre.com | Phone: +33 (0)1 53 41 81 40
23 Avenue Junot | Paris 75018 France
La Mangue Verte
My Paris insider, Catherine Zarzecki, enjoys lunch at La Mangue Verte (The Green Mango) in the 13th arrondissement. It is a very good Vietnamese restaurant situated in the Chinatown of Paris. Not an overly glamorous area of the city, but so interesting for the Asian grocery stores (great for picking up vegetables and fruits) and for off the beaten path restaurants.
Phone: +33 (0)1 45 82 67 55
100 Avenue Ivry | Paris France
La Table de Joël Robuchon
La Table is the younger, less grandiose sister to the super-chef Joël Robuchon iconic L'Atelier, and like its sibling, this one is all about re-worked classics. The gold leaf motif in the dining room signifies the cuisine's style—all of nature's goodness prepared with elegance and class. There's a wide variety of small dishes to share in addition to the entrées. Expect to find common ingredients—fava beans, baby artichokes, olives—prepared in creative ways. The chefs here do to vegetables what Van Gogh did to paint, which is to say exploit them for all their textures and untapped potential. Try the foie gras stuffed hare or crab in aspic with avocado.
www.joel-robuchon.com | Phone: +33 (0)1 56 18 16 16
16 Avenue Bugeaud | Paris France
Aux Lyonnais
This classic bouchon has been a fixture on the rue Saint-Marc since 1890, but it earned fresh kudos in 2002 when über-chef Alain Ducasse took it over. He preserved the Belle Époque glamour of the bistro's zinc bar, 19th-century woodwork and etched glass, but updated the heavily meat-centric Lyonnaise-style cooking with contemporary zest and sensibility. Heart-warming fare is made using innovative techniques, fresh produce and such Lyonnaise staples as pike, cooked pork meats and cheese from Isère. The wine list, selected by the sommelier who develops the list for all of Ducasse's Michelin starred outposts, has put together a collection that focuses on the Rhone's finest. This neighborhood bistro is more earthy and accessible than Ducasse's high end dining spectacles, like the Plaza Athénée or his restaurant in the Domaine des Andéols. You can order the prix fixe or à la carte.
www.alain-ducasse.com | Phone: +33 (0)1 42 96 65 04
32 Rue Saint-Marc | Paris 75002 France
Le Chateaubriand
This spot in the 11th arrondissement is starting to show up in tour books, but long before you needed to make reservations weeks in advance, our documentary filmmaker friend called the casual Art Deco-inspired bistro a favorite. Today the Basque chef Inaki Aizpitarte draws the local hipsters and foodies alike with his high-concept nouveau French cuisine. Each plate is an intensive study in colors and flavors and seems inspired by the modern art world, likely a carry-over from his previous stint at Le Transversal, the restaurant at Le Musée d'Art Contemporain du Val de Marne. The servers have a boho artsy char about them, too. Many diners are pleasantly surprised by the raw prawns, which are served with a tangy citrus sauce and silky avocado. The succulent mussels are adorned with strawberry, blackberry and gooseberry treatments.
Phone: +33 (0)1 43 57 45 95
126 Avenue Parmentier | Paris 75011 France
Georges Restaurant at the Centre Pompidou
The steel and glass construction of this sixth-floor eatery presents is Bauhaus-meets-space age design that's as much an attraction as the works of art in the Pompidou Center itself. Of course, things are a bit more interactive here than they are in the stunning exhibition rooms. If the views from the dining room are quintessentially French—Montmartre, Notre Dame, and so on—you'll find the clever fusion dishes have a much more global perspective. There's a veritable united nations of cuisine from gazpacho with Latin seasonings to a baked cod with a Thai spin to Japanese-accented California fresh veggie fare. If only diplomats got along this harmoniously.
www.cnac-gp.fr | Phone: +33 (0)1 44 78 47 99
19 Rue de Beaubourg | Paris 75004 France
Le Chapeau Melon
This wine shop-cum-living-room-style bistro offers two precious things uncommonly found together in Paris: intimacy and a great value. Far from the tourist-packed boulevards of the first arrondissement, Olivier Camus's bistrot à vins has only 15 seats and he serves his prix fixe lunches and dinners menu to a packed house each night. It's popularity and limited seating means that reservations are required at least a few months in advance. The menu changes daily, but you can expect classic French technique applied to global ingredients, like curry and variuos Asian spices. Camus began his business as a wine shop, so it's not surprising to find selections that dazzle, especially rare organic and biodynamic labels.
Phone: +33 (0)1 42 02 68 60
92 Rue Rébeval | Paris 75019 France
Unico
Nouvelle cuisine is the specialty at this revamped, authentic 1970s era retro-chic butcher shop, not far from where the famed Bastille once stood. Orange formica abounds, and foodies from far and wide and hipsters from down the street stormed this restaurant as soon as it opened for its tender cuts of Argentinean beef cooked on charcoal grills. It comes recommended to us by a very plugged-in Parisian documentary filmmaker we know. Opened by Argentinean-born Parisians—an architect and a photographer—they muted the mod-style tangerine and carrot orange hues with dark wood accents and furniture, appropriated the tiled walls, stainless steel butcher equipment and cutting tables as decor, and hung a few cuts of cured meat to create a vibrant setting that rings with boho charm.
www.resto-unico.com | Phone: +33 (0)1 43 67 68 08
15 Rue Paul Bert | Paris 75011 France
Le Voltaire
Epicurean enlightenment is pretty much guaranteed at Le Voltaire—if, that is, you can get a table. The bustling Seine-side eatery is so busy, you'd assume that every tourist in the city is here for lunch, but the fact is, it's a where the local jetsetters flock when they're not darting off to Capri or Dubai. There's a clubby atmosphere that's apparent in the air kisses socialites toss to one another between nibbles of classic French cuisine, the kind of quintessential dishes that made Paris the global culinary capital long before the age of fusion.
Phone: +33 (0)1 42 61 17 49
27 Quai Voltaire | Paris 75007 France
Mini Palais
After a $1.5 million renovation, the Mini Palais opened as the flagship eatery of the Grand Palais in the summer of 2007. There's little, however, about this 140-seat restaurant that qualifies as "mini." That's especially true at the impressive, colonnaded outdoor terrace, where you can immerse yourself in the grand scene of chatty, glamorous socialites brandishing high ticket handbags. In warmer months, this is the place to get a table. It's less appealing inside, where the ceilings are 25-feet high, the chandeliers are glittery Baccarat crystal numbers, and the kitchen is open from early in the morning until late in the evening, with live music starting around 11 p.m. on some nights. The menu takes a globetrotting approach to French cuisine, with thin crunchy strands of mashed potato standing if for standard steak frites. Chefs there excel at taking humble ingredients and making them sing with the well-thought-out addition of a few unlikely flavors. Try the risotto with crab meat, lemon and cumin or roast beef with glazed cooked carrot and orange and licorice flavorings.
www.minipalais.com | Phone: +33 (0)1 42 56 42 42
Avenue Winston Churchill | Paris 75008 France
Le Saut du Loup
The Musée des Arts Décoratifs has a new addition, a split-level, all-purpose gathering place that's part outdoor cafe, part indoor restaurant and entirely stylish. Since it opened in 2007, the umbrella-dotted dining pavilion has served as an ad hoc catwalk for the city's fashionistas, attracting a fair share of tourists who marvel at the glamour of it all. During the glorious Paris springs, it's definitely one of the scenier outdoor eateries at lunchtime. Make a reservation or chances are you'll miss out. It's more subdued at the indoor restaurant, designed like a study in swish minimalism. Black and white geometric furniture line a dining room where massive windows provide a cinematic views of the city's iconic structures. A seat on the terrace that opens in the warmer months is like a box seat amid the gardens. Ceilings are adorned with Dada-ist murals and the dishes are as decorative as they are delicious. There's a gazpacho with avocado sorbet, asparagus salad topped with passion fruit emulsion and artfully constructed club sandwiches. Most menu items are available in both dining spaces.
www.lesautduloup.com | Phone: +33 (0)1 42 25 49 55
107 Rue de Rivoli | Paris France
Les Ombres and Café Branly at Musée du Quai Branly
Whether or not you're spending the day navigating the new museum's collection of African, Asian and Oceanic art and objects, the eatery in the St. Giles Clément garden is the perfect place to drop anchor for a quick bite or a lingering lunch. There are waiters but no tablecloths, a combination that lends itself to an ambiance that's low-key and laidback. At this casual outdoor café you can sit among the international artsy crowd and tuck into a quiche or salad. A more formal restaurant, Les Ombres, named for the shadow cast on the property by the very nearby Eiffel Tower, is located upstairs on the terrace overlooking the museum's 16,000 square feet of wending gardens. The chef, Arno Busquet, is an acolyte of Joël Robuchon.
www.quaibranly.fr | Phone: +33 (0)1 47 53 68 00
27 Quai Branly | Paris France
La Grande Cascade
There are few restaurants with such beautiful natural light as La Grande Cascade. Set inside a Second Empire pavilion on the edge of the Bois de Boulogne, the restaurant has a luminous quality thanks to its stunning glass ceiling which lets light flood in by day and at sunset. The dreamy setting—ceiling frescoes, twinkling chandeliers and heavy gold drapes—is matched by Chef Frederic Robert's thoughtful and well-executed dishes such as soy sauce roasted foie gras, white truffle oil marinated scallop shells, and meringue and candied lemon marmalade. Open daily.
www.lagrandecascade.net | Phone: +33 (0)1 45 27 33 51
Rue de Longchamp | Paris 75016 France
Le Grand Véfour
This beautiful restaurant, set in the arcades of the Palais-Royal, has changed little since it first opened in 1784. Counting Napoleon Bonaparte, Victor Hugo and Jean Cocteau among its many famous patrons, Le Grand Véfour retains its opulent 18th-century decor, gilt-edged mirrors, crystal chandeliers and seductive atmosphere. There are two dining rooms—a private salon seating 22 upstairs and a restaurant about three times the size downstairs. The venerable Chef Guy Martin oversees a suitably haute cuisine menu. His signature and sublime foie gras ravioli with truffle cream is a must-order dish. Closed Saturdays and Sundays.
www.relaischateaux.com | Phone: +33 (0)1 42 96 56 27
15 rue de Beaujolais | Paris 75001 France
Restaurant le Meurice
What a recipe for success: take one of the of the hottest young chefs in Paris, put him in the kitchen of a historic and opulent dining room just revamped by Philippe Starck, which happens to be in one the city's most venerable hotels on the Rue de Rivoli, across from Les Tuileries. Et voila! Now the crown jewel of hotel Le Meurice, Restaurant Le Meurice earned an impressive third Michelin star in 2007. The interiors are unabashedly lavish—gilded moldings, beveled mirrors, pastoral frescos and crystal chandeliers—but Starck recently gave the space a bit of a cosmetic makeover with white and silver chairs and white and gray curtains. Order the tasting menu to sample the range of hot young Chef Yannick Alléno's innovative dishes, such as duck foie gras iodized in sugar bread with turnip chutney and acidulated seaweed. Closed Saturdays and Sundays.
www.lemeurice.com | Phone: +33 (0)1 44 58 10 10
28 Rue de Rivoli | Paris 75001 France
Hiramatsu
French haute cuisine takes a trip east at this sumptuous Art Deco but minimalistic restaurant. Hiroyuki Hiramatsu only runs this single location in Paris, but in Japan, his name is stamped on ten French cafés and high end restaurants. Asian duck foie gras in truffle emulsion, hazelnut cream and Earl Grey sorbet are just a few of the inspiring ingredients that you'll find in the Asian-accented Parisian plates here.
www.hiramatsu.co.jp/fr | Phone: +33 (0)1 56 81 08 80
52 Rue Longchamp | Paris 75016 France
Espace R
For stunning city views head to this trendy New York-style loft restaurant in the stylish 15th arrondissement. Parisian notables and wannabes gather here for creative cuisine and there's dancing for those who stay late into the night. A purple lounge area gives way to a white dinning hall infused with colorful lighting. Cod in an apple and herb emulsion is just one of the many high points of the dinner menu. Top it off with a selection from the long list of cocktails.
www.espace-r.com | Phone: +33 (0)1 42 63 48 18
8 Rue de la Cavalerie | Paris 75015 France
Kilali
When you think you've had all the foie gras and pot au feu you can handle, go to this Japanese tea salon for a bit of a breather. Nourish your inner zen over green tea and subtle, light Japanese cuisine. Try one of the noodle dishes to tide you over before a rich bistro dinner. It's perfect for a break during a marathon shopping session.
Phone: +33 (0)1 43 25 65 64
3 Rue Quatre Vents | Paris 75006 France
Taillevent
Founded in 1946 in a townhouse built in 1852, Taillevent is one of the most revered culinary institutions in the world, despite the fact that it was demoted from three to two Michelin stars in 2007. Dining rooms in the 1852 townhouse are elegant but understated. Alain Solivérès, the chef since 2002, prepares classic French cuisine with subtle creative twists. Sadly, the restaurant's beloved and seemingly omnipresent second-generation owner, Jean-Claude Vrinat, recently passed away, but his legacy of impeccable service is sure to be carried on by his daughter, Valerie, and the dedicated staff. For intimate dinner parties, there are two private dining rooms that seat as few as six or as many as 30 guests. Closed Saturdays and Sundays.
www.taillevent.com | Phone: +33 (0)1 44 95 15 01
15 Rue Lamennais | Paris 75008 France
Mori Venice Bar
The ubiquitous Philippe Starck adds his Midas touch to this Venetian-style eatery run by a father-daughter team. The earth-toned dining room is infused with Wonderland-esque glamour, with mirrors lining the wood paneled walls, lamps adorned with carnival masks and glittery Murano chandeliers. You'll want to dress to impress for a night here. There's a decidedly festive, gala-like vibe, with several groups of good-looking Parisians seated together in the booths with leather banquettes or at some of the larger tables. The antipasta bar and the menu of earthy Venetian fare—gnocchi in meat ragu, sweet and sour sardines, risotto with squid ink, to name a few—is typically prepared with ingredients straight from Venice. The wine list stands up to this hearty fare and the Italian waitstaff is top-notch. All the desserts are tempting, but, of course, a meal there is best finished off with some gelato.
www.mori-venicebar.com | Phone: +33 (0)1 44 55 51 55
2 Rue du Quatre Septembre | Paris 75002 France
Chez Ly
It's Indochine in Paris at this colonial-style Franco-Asian delight. The imaginative blend of influences results in tempting selections such as foie gras cooked in sake with noisettes of lotus flowers. Come here when you need a change from standard French fare, and savor the wealth of flavorful dishes from Cambodia, Thailand, Vietnam and China—all enhanced with a cheeky French accent.
Phone: +33 (0)1 40 53 88 38
95 Avenue Niel | Paris 75017 France
Maison Blanche
Go here for a table with a view. Perched on top of the Theatre des Champs Elysees on Paris's fashion avenue, Maison Blanche is a stylish restaurant with a clientele to match. The all-white space is on two levels—the Baie Vitrée with floor-to-ceiling windows and a dazzling panorama of the city skyline, and the Mezzanine with a garden terrace that looks out to the Eiffel Tower. Chef Thierry Vaissière's food is as mesmerizing as the cityscape; among the highlights are beetroot jelly and tartare of sea scallops pearled with ossetra caviar, fillet of sole shredded with fresh truffles, and pink grapefruit crisp with verbena sorbet. Closed Saturdays and for lunch on Sundays.
www.maison-blanche.fr | Phone: +33 (0)1 47 23 55 99
15 Avenue Montaigne | Paris France
Suzanne Aaronson, Co-founder of Suzanne's Files, is our Travel Curator. Stay in-the-know on her latest finds and insider tips by signing up to receive Notes from Suzanne's Files, a free e-newsletter.