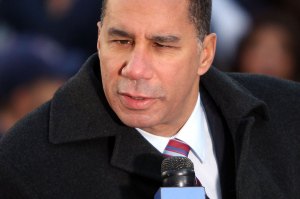 ALBANY—At the end of his remarks at a holiday fund-raiser last night, David Paterson made a simple declaration: "I am running for governor in 2010."
"If it doesn't work out, I'm going to go on The View. They need a little affirmative action on The View," Paterson said to laughs, according to one attendee. Sherri Shepherd, one of the morning talk-show's co-hosts was at the 24 Fifth Avenue event, and Whoopi Goldberg was scheduled to attend but was caught in the storm.
Somewhere between 200 and 300 people did show up, according to conversations with attendees and Tracy Sefl, Paterson's campaign spokeswoman. The venue was cozy and entertainment was provided by a jazz trio as waiters passed hors d'oeuvres of smoked salmon. The crowd included Councilwoman Inez Dickens, lobbyists Patricia Lynch and Brian Meara and gossip columnist Cindy Adams, as well as the first lady, Michelle Paige Paterson, and the governor's father. The minimum ticket price was $1,000.
Former New York mayor David Dinkins spoke in praise of the Paterson—Dinkins has known the governor since he was a boy—before Jay Jacobs, the chair of the Democratic State Committee, offered a metaphor about politics being like driving: You go forward when your car is in 'D,' not 'R.'
The event came on the same day as a speech by Paterson on Wall Street, where he praised the financial institutions as "the engine of our economy." Paterson's remarks touched on the need to cut spending while allowing Wall Street to flourish. Two attendees told me they got the sense Paterson was catering, "definitely trying to raise from downtown interests"; he has made a point in recent months to reach out to them as his relationships with some labor unions have grown tense.
"The governor and his entire team are proud of the event, the enthusiasm for the governor and the money raised," said Sefl. "It was a quickly paced, fun holiday season event in a beautiful space—just the way our supporters like it. And it was exactly the type of simple event the governor thinks is appropriate in this climate."
She did not provide a firm figure. One attendee told me they heard someone spinning $2 million as the take. This struck others as incredibly high. After the main reception, V.I.P. supporters followed Paterson to a Champagne toast at a nearby club. Raising money is crucial if Paterson stays in the governor's race, which is generally expected and which Jacobs has said privately.
The sense is this might be too little too late. A filing in July showed he was outraised by Andrew Cuomo, his presumptive rival for the governorship. (Cuomo has repeatedly said publicly that his only plan "at this time" is to run for reelection as attorney general.)
"The general sense was that people liked the speech, but is there enough time?" said one attendee. "If you run a three-mile race, and you run the first mile in 12 minutes, you've got a lot of catching up to do."
Paterson acknowledges he's got a lot of ground to make up and tamps down expectations. He was asked Wednesday by NY1's Josh Robin if his tough stance on the budget—which have angered unions and other special interest groups—will hurt his fund-raising efforts.
"Really because we've had so many special sessions, I haven't really had much of an opportunity to solicit campaign donations," Paterson said. "I think most of my campaign fund-raising will occur next year, because of the worst—I've had to cancel over 20 events, because we've had so many special sessions and time in Albany. So I wouldn't know."