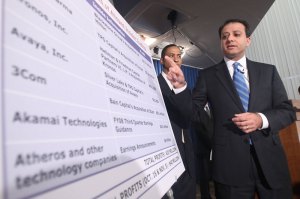 On the afternoon of October 16—65 days into U.S. Attorney Preet Bharara's reign of prosecutorial terror—the phone rang in the Murray Hill office of defense attorney Ravi Batra.
On the other end, a concerned hedge-fund executive wanted to schedule an emergency Saturday meeting to discuss the day's news: Mr. Bharara—an affable 41-year old native of India and the latest chief of the Southern District of New York—had just announced that his office was bringing charges against Raj Rajaratnam, head of the Galleon Group, and five other defendants. They would later be followed by 14 more defendants, making it the largest hedge-fund insider-trading case in history.
"What U.S. Attorney Preet Bharara did with the Galleon was as if a neutron bomb exploded on Wall Street that was going to destroy criminality," Mr. Batra said recently.
In the first 100 days after he was sworn in on August 13, Mr. Bharara engineered such explosions with grim regularity, arresting a series of well-connected New York money people and sending countless other running for cover, wondering if they're next.
And, despite (or perhaps because of) Mr. Bharara's background as a political insider—he served for several years, starting in 2005, as chief counsel to Senator Charles Schumer—it seems that New Yorkers' political connectedness exists in inverse proportion to their chances of being spared the U.S. Attorney's attentions. (Case in point: on Dec. 15, his office issued subpoenas to the ascendant Working Families Party in connection to their unprecedentedly dominant role in this year's New York City elections.)
"There are politicians who are now quaking in their boots," said Mr. Batra, a prominent Democrat, "because it's obvious that if a major fund-raiser for Chuck Schumer got no relief, then everybody else is chopped liver."
Mr. Bharara gave notice early and often of the way things were going to be, announcing the arrests of star Democratic fund-raiser Hassan Nemazee (on Day 13), two Ponzi schemers who made $80 million off sham A.T.M.s (Day 40), Mr. Nemazee's brother (Day 44), several fraudulent mortgage lenders (Day 64), the C.F.O of the hedge fund run by Obama über-bundler Orin Kramer (Day 90), and two computer programmers for Bernard Madoff (Day 93). This, in addition to the guilty pleas he engineered from Madoff lieutenant David Friehling (Day 83), and from disgraced former police chief Bernard Kerik (Day 85).
Given its proximity to Wall Street, the Southern District has always been the Justice Department's go-to office for prosecuting white-collar crime, but the White House is making the markets a particularly intense focus. And so, in turn, is Mr. Bharara.
"He's certainly come out of the box with a bang in the white-collar area," said Mary Jo White, who served as head of the Southern District from 1993 to 2002.
In the past, prosecutors have taken suspicious trades and attempted to build their cases by reconstructing a timeline of the events. But those days appear to be over. What made Mr. Bharara's Galleon "neutron bomb" so shocking was not so much the nature or the scope of the investigation, but the means of surveillance. A vast network of insiders was tapped over a period of well over a year—the investigation was initiated by one of Mr. Bharara's predecessors, Michael Garcia—and the evidence of malfeasance appears to have been captured in real time. No one knows just how much he knows, or, by extension, what's going to come next.
"As the defendants in this case have now learned the hard way, they may have been privy to a lot of confidential corporate information, but there was one secret they did not know: we were listening," Mr. Bharara told a crowd of reporters and photographers at an announcement of the Galleon charges.
For the first time, an entire Wall Street network—a complicated web of hedge funds, industry insiders, and white-shoe attorneys—had been wiretapped, and unraveled.
"The whole community is abuzz over the Galleon case and insider-trading cases in general. It's definitely the talk of the town," said one white-collar defense attorney who asked not to be identified because he worked in the Southern District until recently. "I mean, who's being wiretapped? How many people are they going to arrest? How widespread is this practice? Who are the lawyers who are going to be representing these people? And is there any defense to these cases?"
A week after the announcement, one defense attorney told Bloomberg News that one of his clients wanted to sweep his office for recording devices. Others, like Mr. Batra's caller, have scheduled emergency meetings with their lawyers. Inside the funds, compliance officers are cracking down. And even the most squeaky clean are reconsidering their calls.
"Within the industry, the primary concern is not knowing whether you're communicating with honorable intentions to a person who may not have as honorable of intentions, and may be guilty by association," said Ron Geffner, a defense attorney at Sadis & Goldberg.
"There's nothing as riveting—or shattering—to white-collar defendants as to be arrested and put in handcuffs and processed by the U.S. Marshals," said Ms. White. "It sends a very strong message."
After seeing Mr. Rajaratnam hustled away in handcuffs, one of the 14 defendants who was arrested in the second sweep—a man known as "Octopussy" for the reach of his insider-trader ring—allegedly tried to bite the SIM card of his pre-paid cell phone to keep it from being used against him.
Former Southern District attorneys say Mr. Bharara would not have organized Mr. Rajaratnam's so-called "perp walk," and yet he seems to reinforce its message.
"It is not clear to me why alleged financial fraudsters deserve a milder approach because they wear a white collar," he told a group of lawyers in a speech at N.Y.U. on November 19 (Day 98). "As I have said before, if you are a wealthy trader or a rich corporate executive, you are not special; you do not get to operate under a different set of rules."
(Mr. Bharara declined to be interviewed for this article. He has yet to give an on-the-record interview since becoming U.S. Attorney.)
The Monday after Mr. Rajaratnam's arrest, Mr. Bharara announced that the new Complex Frauds Unit—formerly Major Crimes—would be headed by two co-chiefs with experience prosecuting drug cartels, narco-terrorists, and the Italian mafia.
"Those are probably the most telling of any of the moves he's made," said Anthony Barkow, a friend of Mr. Bharara's from their days together in the Southern District, who now directs the center on prosecution at N.Y.U. where Mr. Bharara recently spoke. "Those guys know how to do wiretaps, they've overseen a lot of them, and they're probably going to use them."