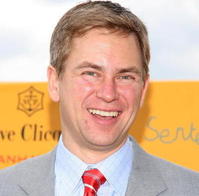 This morning on "Inside the Papers," NY1's Pat Kiernan flat-out declined to discuss the Tiger Woods saga, although it dominated the Post and Daily News front pages. Was this a gesture of protest? A principled stand against the ravenous carcass-picking gossip vultures of the New York City tabloids?
Nope!
"I love the story as much as anybody," he told The Observer. (Indeed.) It just seemed like there was nothing left to say, he said–"it's all getting to be the same."
"Some development is going to come up where I break my embargo," he promised.