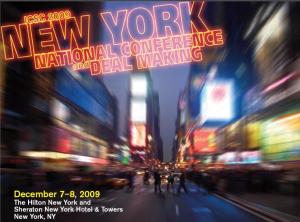 Mid-afternoon Monday the first three floors of the Hilton on 54th Street were abuzz with hundreds of besuited retailers and real estate brokers at the International Council of Shopping Centers' annual New York conference, all hoping to strike deals and bring in good business in 2010.
This stood in sharp contrast to May's Las Vegas confab, which was effectively dead, and New York's conference last November.
"This year it's definitely more bustling, it's a lot more crowded," said Alexander E. Hill of Winick Realty Group. "Although it might be because they shortened the conference to two days. It was three last year, but I think this is more productive."
Gina Sacco, an office manager at Vanguard-Fine, says that her company's booth was in the Sheraton last year, and the upgrade to the Hilton location was unexpected. "I think it was because of low attendance at the conference—that's why we got the space here so easily," she explained.
Several real estate boothholders, including Jason Pruger from Newmark Knight Frank, were happy that at 4 p.m. there was still a lot of activity (apparently, by that time in 2008, the floor was relatively empty). Comparing the conference to New York's retail market, Mr. Pruger said, "Good real estate will hold even in a bad market, but the medium and bad stuff won't. And that's pretty much where we're at."
Indeed, in areas like Lexington Avenue near Bloomingdales, the upper echelons of Fifth Avenue and in Soho, Mr. Pruger says the market is doing well (case in point: he said he recently brokered a deal in Soho at a robust $450 a square foot). Conversely, in "lower rent" areas like First and York avenues, retail spaces are empty or suffering. Madison Avenue has taken a "real hit," Mr. Pruger says, because the wave of Europeans celebrating the cheap exchange rate has more or less receded.
"Last year was like a wake," said Dan Pisark of the 34th Street Partnership, who has attended the conference since 1996. "This year the mood is more up, there's more energy. I think everyone spent last year just wondering how to go out; now they're seeing the light of day."
jalexiou@observer.com