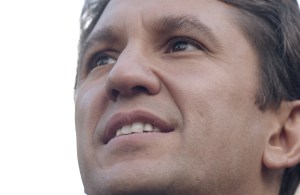 For his work as director of global real assets at JPMorgan Chase last year, Rick Lazio, the only Republican in the field, received a $1.3 million dollar bonus, his campaign announced today.
"Rick is proud of the work he did at JP Morgan," said Barney Keller, Lazio's spokesman, in a statement. "JP Morgan is known as one of the best managed and best run companies in the world, and Rick is excited about taking his knowledge of the private sector and utilizing it for the benefit of New Yorkers."
After being bailed out with $25 billion in federal funds last fall, JPMorgan paid back the loan in April of this year, and went on to make $3.9 billion in the third quarter. Mr. Lazio has taken a leave from the bank while he's campaigning.
Mr. Lazio's bonus might be less of an issue if he ends up running against the lone Democrat to declare for the race so far, and more of an issue if he ends up against his presumed Democratic opponent.