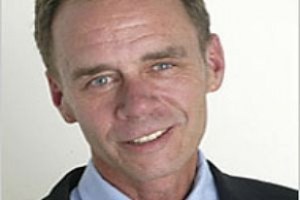 Wall Street Journal managing editor Robert Thomson took David Carr and Bill Keller to task for a story published in the Times today about the Journal's Washington bureau.
Mr. Carr wrote that the Journal's D.C. coverage has been "adopting a more conservative tone" and that editors have been "editing and headlining articles to reflect a chronic skepticism of the current administration" ever since Mr. Thomson took over the paper as editor. Mr. Carr used former D.C. Journal staffers and two current staffers to build his argument.
Mr. Thomson wasn't a fan of the piece.
In a statement this morning, Mr. Thomson said that "principle is but a bystander at The New York Times" and hinted that the paper's increasingly visibile rivalry with the Journal compelled them to write the story. Seperately, and more audaciously, Mr. Thomson built on his case that there's a vendetta against his paper when he said that Mr. Keller wrote to a Prize Committee last year to cast "aspersions on Journal journalists and journalism."
We've reached out to Mr. Keller and Mr. Carr for a response. When we asked Mr. Carr for a comment, he wrote back, "No, seems fair to have him have his say. I had mine and stand by it."
Here is Mr. Thomson's statement:
The news column by a Mr David Carr today is yet more evidence that The New York Times is uncomfortable about the rise of an increasingly successful rival while its own circulation and credibility are in retreat. The usual practice of quoting ex-employees was supplemented by a succession of anonymous quotes and unsubstantiated assertions. The attack follows the extraordinary actions of Mr Bill Keller, the Executive Editor, who, among other things, last year wrote personally and at length to a prize committee casting aspersions on Journal journalists and journalism. Whether it be in the quest for prizes or in the disparagement of competitors, principle is but a bystander at The New York Times.
UPDATE: Mr. Keller writes in to say that he felt the piece was fair, "and, if anything, understated." Mr. Keller did not address the prize committee accusations, so we've asked him for a comment on that as well.
While David's column clearly got under Mr. Thomson's skin, I don't see anything in this response that casts doubt upon it. The column was scrupulously fair and, if anything, understated, and I have no inclination to help Mr. Thomson change the subject.