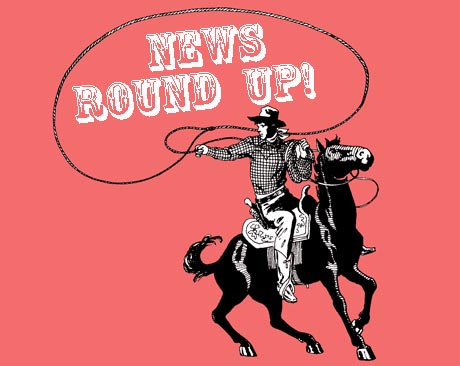 Here you go, folks—a round up of the top stories from around the Garden State in small bites you can almost taste.
N.J. Governor-elect blasts Democrats, Senator Paul Sarlo gives pre-emptive response.
TRENTON — Returning from a Thanksgiving vacation, Gov.-elect Chris Christie today quickly ended any illusion of harmony in the gubernatorial transition.
With rhetorical flourish, the Republican criticized three main issues: He tore into Democratic Gov. Jon Corzine's "wildly off" budget projections, his nomination of "unqualified" Middlesex County Sheriff Joseph Spicuzzo to sit on the New Jersey Sports and Exposition Authority, and various Democrats' lame-duck maneuvers, including weighing bills that would require spending.
In a pre-emptive response to the Governor-elect's criticism of the three issues, Senator Paul Sarlo declared, "Bullshit, bullshit, bullshit."
The Governor-elect could not be reached for further comment.
Hapless NJ Nets' move to Brooklyn gets boost
The New Jersey Nets planned move to Brooklyn advanced Tuesday when the team owner received favorable ratings on the bonds he must sell to build an arena and a court knocked down another appeal of the project, according to a report in The New York Times. This was surprising considering the New Jersey Nets are lounging in last place in the Atlantic Division of the Eastern Conference at 0-17.
An anonymous source from the bond-ranking service said "We have used the same metrics here that we used to measure the economic status last year of Lehman Brothers, AIG, and General Motors. And we feel confident that the best is yet to come. The Nets will turn things around very soon."
In other Nets related news, NJ Nets players approve of choice of Kiki Vandeweghe as new coach, who will apply immediately for TARP bailout funds from the Federal government " so the team can afford better player, like Jason Kidd."
New state Senator Michael Doherty targets Highlands Council.
Michael Doherty became the state senator for the 23rd District, which includes all of Warren County, on Nov. 23 in the Trenton legislative chambers. Senate President Richard Codey administered the oath, and Linda Doherty held the Bible.
Michael Doherty says he will press for the abolition of the Highlands Planning Council in his new position as state senator for the 23rd District.
In a time of economic downturn, the Highlands "has added great uncertainty to economic activity this part of state," he said. Senator Doherty is sure to be one of the more conservative members of the upper house.
Mr. Doherty, who has a strong belief in smaller and smaller government continued, "I would also like to see the eventual dismantling of COAH, the dismantling of beaches of New Jersey by allowing off-shore oil drilling, and maybe even the eventual dismantling of counties of Warren and Hunterdon, and the entire northwestern portion of the state."
Finally he stated, "Perhaps an itsy bitsy government would be best at every level."