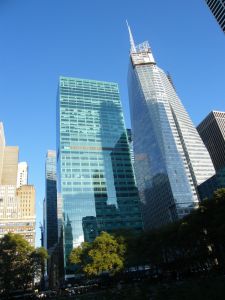 1095 Avenue of the Americas
Lukoil Pan Americas, a division of the Russian oil behemoth, signed a 20,433-square-foot lease at the Blackstone-owned 1095 Sixth Avenue, overlooking Bryant Park. The company is consolidating its crude oil and refined products trading operations, which were previously based in New Jersey and Long Island.
The 11-year deal for the 33rd floor included renovation and construction according to Lukoil's speculations. "We were fortunate to hit the market at the right time," said John Mambrino, the Studley broker who, along with Nicholas Farmakis, represented Lukoil. "We had a handful of options all in quality, well-located buildings, but 1095 Avenue of the Americas represented the best option."
Robert Stillman and Zachary Freeman of CB Richard Ellis represented Blackstone in the transaction.