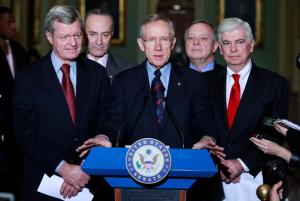 This morning, Senator Chuck Schumer declared fellow senators Harry Reid, Max Baucus, and Chris Dodd the "three horsemen" of the health care bill that finally passed the Senate on the first Christmas Eve vote since the nineteenth century.
"This is an amazing accomplishment. It would be under ordinary times. It's even more amazing under extraordinary times. And the three horsemen of this bill stand behind me," Mr. Schumer said, declining to include either himself or Illinois Senator Dick Durbin, who also stood behind him.
Mr. Durbin could challenge Mr. Schumer for Senate majority leader next year if the lead horseman loses his bid for re-election, but Mr. Schumer prefers not to talk about that. So, as he has in the past, Mr. Schumer chose to be effusive in his praise of Mr. Reid.
"Leader Reid did an incredible job — just amazing. I just watched with awe with how he could weave the legislative fabric," Mr. Schumer said. Earlier, the entire Senate had watched with surprise as Mr. Reid cast his vote. Having spent months negotiating a series of compromises to parry a filibuster and pass the bill, the majority leader accidentally voted against it, threw up his hands, and revised his vote to aye.
In a subsequent statement sent out to the press, Senator Schumer insisted that Americans will come to appreciate the Senate bill. "As people learn about all the good things in the bill, they will like it more and more," Mr. Schumer said. One person he might want to convince soon: Mayor Michael Bloomberg.
The full statement from Senator Schumer's office is below. (For comparison, Senator Kirsten Gillibrand's statement is here.)
"As people learn about all the good things in the bill, they will like it more and more. This bill is good for Americans and good for New Yorkers. It cuts the waste, fraud abuse and duplication we all know permeates our health care system that drives costs up for families and, at the same time, covers millions of middle class people who are not covered right now. It has many benefits specifically for New York's seniors, taxpayers, and workers:

· It specifically shields 800,000 New York seniors from Medicare cuts.

· It protects tens of thousands of New Yorkers jobs by preserving the special funding that New York hospitals get because they train such a high proportion of the nation's doctors. These funds have always been on the chopping block.

· It will open hundreds of community health centers with good, reasonably priced services in our cities, suburbs, and rural areas.

· It will cover all children who don't have health care and insure 1.7 millions New Yorkers who don't have coverage now, more than most any other state.

As the legislative process continues, we are going to continue to work to see that the final bill helps New Yorkers and New York."