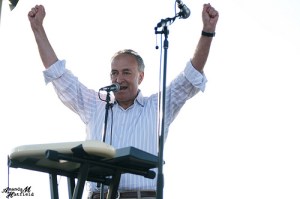 Chuck Schumer–your bike-riding senior senator whose love for pool parties demonstrates "a man who clearly knows his music"–will be happy to hear that those Jelly Pool Parties will be back at East River State Park next summer, according to the Brooklyn Paper.
Six weeks ago, the state parks department said the Williamsburg park couldn't accomodate the summer concert series, a decision Senator Schumer simply couldn't abide. "People came from far and wide to enjoy the Brooklyn concert series, and when I heard they were in danger I just could not sit idly by and let the JELLY Parties get cancelled," he said in a press release last week.
Now it's on to saving the public option.