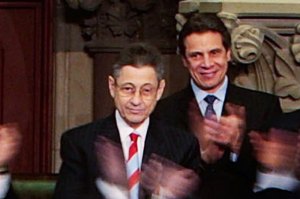 ALBANY—Assembly Speaker Sheldon Silver thinks Andrew Cuomo is going to run for governor.
"I do," Silver told Fred Dicker on WGDJ. "I think he's clearly showed he's popular and has always wanted to be governor, and I think he senses thinks it's his opportunity."
"Where I will be, let's talk in June," Silver said, noting this was not an outright endorsement of Cuomo.
David Paterson, the incumbent governor, is actively seeking election to the post. While Cuomo is fund-raising prodigiously and has made several moves to gear up for a gubernatorial run, he has repeatedly said in public that his only plan "at this time" is to seek re-election as attorney general.
Silver did attend Cuomo's birthday fund-raiser earlier this month but skipped a holiday event held by Paterson. The Assembly speaker has not joined some other elected officials in breaking publicly with Paterson. Dicker asked him to explain how he will decide who to support.
"I want to do what's best for the Democratic Party," Silver said. "I want to elect members of Congress, members of the Assembly, Democratic members of the Senate, and I want the strongest ticket possible out there in order to do that."
"I'm really referring to, let's see where the parties are after this legislative session has gone down the road and who's the strongest candidate," he continued. "I'm saying June because I think then you form a ticket. Yes, there are conventions, and by then you'll have a better snapshot of what directions various candidates' popularities are going."
Paterson's popularity in polls has been low, especially in contrast to Cuomo. More registered Democrats say they would vote for Cuomo over Paterson, and there is concern among some members of the Congressional delegation and State Senate that Paterson's presence on the 2010 ticket could hurt their chances.