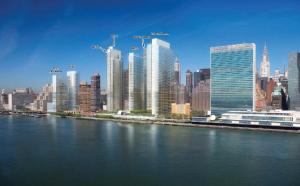 The Paterson administration was handed a potentially costly loss at the hands of a state appellate court Thursday, as the state Department of Environmental Conservation was denied in its attempt to appeal a brownfield cleanup case against enigmatic developer Sheldon Solow.
The state now stands to pay a previously estimated $250 million to Mr. Solow as a result of the opinion, which upheld an earlier decision that ruled the state had to award Mr. Solow the money he was entitled to under the old brownfield development program. That program, which was amended last year to close what were seen as gaping holes in the legislation, allowed developers to get unlimited benefits from the state when they were building on polluted sites (the awards were a proportion of the total development costs).
As part of his planned (but not progressing) $4 billion development on a former ConEd site by the United Nations Mr. Solow initially applied to be in the program back in the Pataki administration, a request granted by state officials at the time. But under the Spitzer administration, the DEC changed course and reversed its earlier decision to accept his ConEd site development. Mr. Solow then sued, demanding the $250 million award (the state's estimate) through the program. The state countered that Mr. Solow was not actually entitled to the large award as the land would have been remediated even without the incentive program, given its desirable, high-value location.
Last year, a state court ruled in favor of Mr. Solow, a decision the DEC appealed. That appeal ended Thursday, as the appellate court ordered the state to move forward with the brownfield cleanup agreement.
ebrown@observer.com