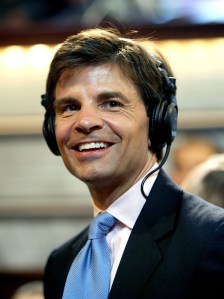 George Stephanopolous debuted as a co-host of "Good Morning America" this morning, and in case anyone had forgotten that he once worked in the Clinton White House, David Axelrod made sure to remind them.
"He's one of the president's closest advisers, has an office right next to the president, David Axelrod," said Mr. Stephanopolous, introducing the senior adviser.
"Used to be your office, George," Mr. Axelrod pointed out.
"Yes, a long, long time ago," Mr. Stephanopolous replied with a laugh.
What followed—a segment on the White House economic plan—was the kind of inviting hard news feature that ABC is trying to embrace by uprooting the former Clinton adviser from his Sunday morning post, and in the Daily News, David Hinckley seems to think it's working. Mr. Hinckley said there "was an undercurrent of comfort that isn't always present when government officials talk with the media, and it would be naive to think ABC isn't hoping that will make 'GMA' an appealing destination for people making news."
For the veteran political interviewer—who had This Week rivaling the titan Meet The Press before his departure—the hard news is the easy part. He's reportedly asked not to host the show's softest segments—cooking demonstrations and the like–but some soft stuff just comes with the territory: Mr. Stephanopolous looked noticeably less comfortable in a stool-top chat about how to find the best e-coupons online.