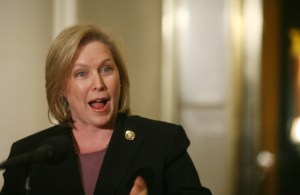 Voluble Manhattan Borough President Scott Stringer announced this morning that he is supporting Senator Kirsten Gillibrand in the 2010 U.S. Senate race, becoming the first would-be challenger to back her.
The endorsement shores up Ms. Gillibrand's credibility with liberal Democrats who, like Mr. Stringer, were initially concerned about her House record when she was appointed by Governor David Paterson in January. "Over the last year, Kirsten has truly impressed me and other City leaders with her fresh, smart approach to the problems we face," Mr. Stringer said in a press release. And he added that he now considers her a progressive.
That means if City Comptroller Bill Thompson—still riding the wave of speculation from that five-point loss—runs for Senate, Mr. Stringer won't be supporting him. The popular borough president could also help solidify her support in the city and prevent a challenger, like, say, Mr. Thompson, from raising money from liberal donors. And, of course, endorsing early won't hurt him among the Democratic establishment that's worked so hard to clear the field for Ms. Gillibrand.
Asked about political profiles that invariably call her "vulnerable" on Good Day New York this morning, Senator Gillibrand claimed not to be worried about the speculation. "I don't really follow who's in and who's out. At the end of the day I think the politics will take care of themselves," she said.