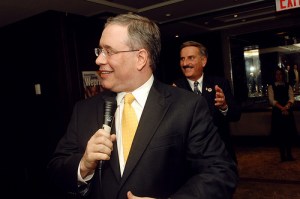 One of the people joining Michael Bloomberg at the Hudson Rail Yards later this morning will be Scott Stringer, the Manhattan borough president whose power, along with that of other borough presidents, the mayor reportedly is considering curtailing.
When I got Stringer on the phone this morning, I somewhat jokingly asked if borough presidents had any power to be taken away.
"First of all, we got loads of power. Somebody should read the city charter," he said, before rattling off stuff about land-use proposals and the budget.
"What's clear after the last election is that the public wants more people at the table," he said. "I think we would be better served if we gave everybody a little more strength," he said. "The public advocate should have more power. And we [borough presidents] have a unique perspective beyond just a council district. Don't you want people to wake up early, have more responsibility and do more work?"
Stringer said he planned to roll out more specific recommendations, and to have a conversation with Bloomberg about this issue.