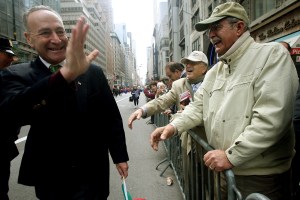 New Hampshire isn't buying Senator Chuck Schumer's pheasant-shooting, venison-eating, maple-tapping Farmer Chuck routine.
"It's hard to picture New York Sen. Chuck Schumer, a Brooklyn native, in mud boots, a flannel shirt and a hat with earflaps," writes the Concord Monitor in a disbelieving editorial about Mr. Schumer's quest to make New York the maple syrup capital of North America. (The Times gently skewered him a couple weeks ago for the same campaign, particularly his appeal to IHOP that they offer a local syrup option in New York, like they do in Vermont.)
According to the Monitor, "beating Quebec is a politician's pipe dream," but Mr. Schumer might be able to get New York to number two, if global warming doesn't shrink the maple season before the state can ramp up production. "If Schumer wants to use agriculture to stimulate his state's economy maybe he should think about, say, chinchilla ranching or frog farming instead," the Monitor sarcastically suggests.
Of course, Farmer Chuck isn't designed for New Hampshire, but for the upstate voters who remain skeptical of the Brooklyn Congressman who was once (and sometimes still is) an urban gun-controller. It's worked well enough: Forty-five percent of upstate voters approve of Senator Schumer's performance. That's 19 points lower than he polls in New York City, but more than enough to make him unbeatable statewide. (A lot of those upstate farmers seem to be sitting on their fences; 36 percent think he's doing a "fair" job, which means Mr. Schumer might be able to pick up some new supporters with each venison tax credit and maple production bill.)
While Senator Schumer might not need the support, his 2010 running mate, Senator Kirsten Gillibrand could probably use the help. The potentially vulnerable junior senator has a 34 percent approval rating upstate–much higher than her New York City numbers–and across the state, only 25 percent of voters approve. Most of her work is focused on shoring up her support on the left, leaving Mr. Schumer, ironically, to do the heavy lifting in rural New York. But as Farmer Chuck might say, what's good for the goose is good for the gander.