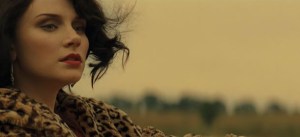 The Loss of a Teardrop Diamond
Running time 102 minutes
Written by Tennessee Williams
Directed by Jodie Markell
Starring Bryce Dallas Howard, Chris Evans, Mamie Gummer, Ellen Burstyn, Ann-Margaret
Unearthed from a dusty file long forgotten, The Loss of a Teardrop Diamond is an unpublished, unproduced Tennessee Williams screenplay that has been gathering dust for more than 50 years. Brought to the screen at last by actress-turned-director Jodie Markell, it hardly goes down as an exceptional work by one of the world's greatest playwrights, but since even his socks have market value, it has a certain curiosity factor that cannot be denied.
Set in the Mississippi Delta in 1923, the frail story centers on Fisher Willow (Bryce Dallas Howard, real-life daughter of Ron Howard), whose wealthy planter father has disgraced the family by flooding the levee to save his own crops, killing several farmers in the bargain. Fisher is a wayward daughter of the Old South with a talent for slumming the night away in black backwoods honky-tonks. Some critics have mistakenly compared her to Alexandra del Lago in Sweet Bird of Youth, but she's more accurately a jukebox flapper cut from the same bolt of sexy sequins as Lee Remick's Temple Drake in William Faulkner's Sanctuary. Bored, spoiled and impulsive, she's a sarcastic snob who has been forced to make her social debut in Memphis so that her rich Aunt Cornelia (a miscast Ann-Margret) won't leave her $5 million inheritance to the Episcopal Church. Already an object of local gossip and scandal, she invites more trouble by drafting a gullible field hand on her father's plantation named Jimmy (Chris Evans) to escort her, then passing him off as the grandson of a former governor. He cuts a fine figure behind the wheel of her yellow Pierce Arrow in the new tuxedo she buys him, but their class differences are obvious as soon as they arrive on the party circuit at a Halloween bash thrown by a debutante named Julie (Mamie Gummer, the real-life daughter of Meryl Streep). Although Julie's party never gets any more decadent than spiked punch and a game of post office on the verandah, a crisis ensues when Fisher loses one of her aunt's $5,000 teardrop diamond earrings and everyone becomes a suspected thief, especially Jimmy. Nothing much happens after that, except an encounter with a dotty old bedridden crone locked away upstairs (Ellen Burstyn), who is addicted to opium. Just to keep us aware that we are, after all, in Tennessee Williams territory, the story bounces between Fisher's unconventional prancing in a leopard-skin coat and Jimmy's tortured home life with a drunken father and a mother in the loony bin. Not to mention the dying opium addict, who says things like "I finally found a drug that made it bearable for me to live when living became unbearable—the smoke of the burning poppy!" At about this point, the movie desperately needs a guest appearance by Blanche DuBois to liven things up, but settles for Fisher slowing down the pace at the grand piano playing Liszt.
The role of Fisher was originally intended for Lindsay Lohan, who was held up in rehab at the time. Ms. Howard has a porcelain complexion that seems almost as transparent as her acting. She's attractive, but her accent is as phony as Hamburger Helper. In the role of Jimmy, Mr. Evans looks handsome and troubled, with sad eyes and a perpetual insecurity, but curiously, he's as wooden as a stop sign. Ann-Margret may not be a kitten with a whip anymore, but she's prettier than everyone else in the movie, so casting her as a gray and wrinkled old dowager aunt makes no sense at all.
Director Markell loads up on Southern-fried ambience and knows what to do with a camera; one shot of Ms. Howard climbing the porch stairs in the dark, surrounded by lighted jack-o'-lanterns, is stunning. But the revelation of what happened to the missing earring and the compromises everyone makes that change their lives hardly seems worth the wait. Doped up and dying, Ellen Burstyn sums it up: "You want someone to love you that you love … and not all the teardrop diamonds of this world, lost or found, can arrange that for you." This is minor Tennessee Williams, but times are hard. I guess minor Tennessee Williams is better than no Tennessee Williams at all.