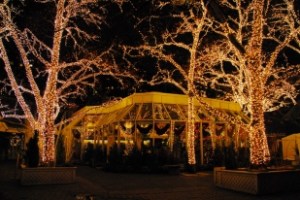 If you'd like to ring in 2010 with a Tiffany lampshade from Tavern on the Green, you are in luck: everything in the bankrupt restaurant will be auctioned off next month.
The restaurant's physical trappings have been appraised at a total of $8 million; the name, however, has been appraised (how?) at $19 million, and it's the name that the city cares about.
The Deal has posted a video documenting the chandeliers and flatware as well as the intellectual property dispute.
Tavern on the Green President and COO Michael Desiderio ("I'm not a lawyer!") explains that the situation is not a matter of "personal feeling or he-said she-said": it is a trademark, and hence "seems pretty cut and dried to [him]!"
The restaurant's current management departs at the end of the year.