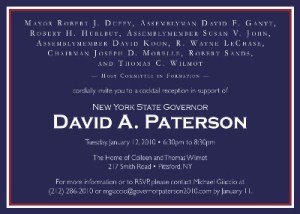 David Paterson's Rochester friends are pretty similar to Andrew Cuomo's Rochester friends.
I got a hold of this invitation for a fund-raiser on January 12, hosted by Mayor Robert Duffy and Assemblyman Joe Morelle, the Monroe County Democratic chairman. The event is being hosted at the home of Tom Wilmot, a Rochester-area developer and active donor.
Last week, Wilmot sat on the host committee for a fund-raiser Cuomo had in Victor. Morelle and Duffy, speculated as a potential lieutenant governor, were the hosts of that event and Morelle attended Cuomo's birthday party last night.
The invitation doesn't say how much Paterson is asking for the "cocktail reception."
Cuomo has repeatedly said his only political plan "at this time" is to run for attorney general. He and Paterson are fighting a Cold War for campaign cash–which Cuomo is, by all accounts, winning–in an attempt to force Paterson to cut short his electoral bid.