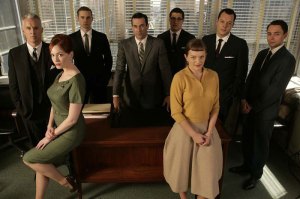 Maybe we're being a bit finicky, but we have a problem with critics around the interwebs hailing 2009 as one of the strongest years for television in recent memory. Quite the contrary: from where we sit, this year felt decidedly weak. Perennial favorites, like Lost and How I Met Your Mother, were saddled by disappointing seasons (specifically Lost; even as rabid fanboys, we were underwhelmed by the events of season five). Critical darlings, like Modern Family and Sons of Anarchy, failed to strike our fancy. Even promising sophomore series, like Parks and Recreation and Fringe, took some major steps backward. And, hey, there wasn't even a presidential election to keep us occupied!
With all that being said, however, we were still able to find ten favorites—it was just a bit harder than it looks. Here's our list of the best television offerings from 2009.
#10: "I'm On a Boat," Saturday Night Live
There have been more popular Digital Shorts produced by The Lonely Island—"Dick in a Box," "Motherlover," and "Jizz in my Pants" come to mind—but, for us, none top the unbridled joy of "I'm On a Boat." Besides the fact that it's hilarious, catchy and has T-Pain on backup vocals, "Boat"—which debuted during the February 7th edition of Saturday Night Live—has the temerity to name check Leonardo DiCaprio, Kevin Garnett and Poseidon in its lyrics. We don't want to sound obsessive, but there's a good chance we watched "I'm On a Boat" five times over the course of this paragraph.
#9: Bored to Death
Proof that sometimes all you need is chemistry. With its trendy locales and hipster slant, Bored to Death should have been the twee-pocalypse. But because of Jason Schwartzman, Ted Danson and 2009 Breakout Star of the YearTM Zack Galifianakis—all three giving award-worthy performances—Jonathan Ames' soft-boiled detective series overcame the flaws inherent in its premise.
#8: Desperate Housewives
Sometimes it feels like we're the only ones still watching Desperate Housewives. That's a shame because the soap opera continues to offer audiences deliciously twisted cliffhangers—witness the fall finale's plane crash—and Eva Longoria-Parker, who might be the funniest actress on television.
#7: Party Down
A closer sister to the British version of The Office than its American counterpoint, Party Down was, at times, too much like Ricky Gervais' iconic series. But it hit all the right notes of awkward poignancy and, thanks to Adam Scott's beyond deadpan delivery, managed to get some of the unctuous contempt right as well.
#6: Community
We'll say it: Community has the best chance of any comedy currently on television to become the next Arrested Development. It won't, of course—except for maybe the cancelation part—but there are moments when this show is that funny. Why aren't you watching it again?
#5: 30 Rock
When it comes to 30 Rock, the perfect is the enemy of the good. If Tina Fey's hilarious funhouse of television satire doesn't give us the best episode ever, we get antsy and start writing e-mails to friends that begin with "30 Rock isn't funny anymore!" But, then an episode like "Dealbreakers Talk Show #0001" happens and reminds us that no other show can make us laugh as hard or as loud (just ask our neighbors). So all you haters: sit back, relax and smile… with your mouth.
#4: Glee
Nothing on Glee should work: it's corny, silly, and obvious and features so many hateful characters that you might need an attendance sheet to keep up. That it does work, however, is a credit to both creator Ryan Murphy and the cast, which is top-to-bottom amazing beyond Jane Lynch's already iconic performance as Sue Sylvester. As an added bonus: Glee's fall finale was one of the best episodes of any show this year.
#3: Chuck
The show that lived only so television critics could feel good about themselves! Chuck was famously on the bubble for much of its second season only to be given a last minute reprieve that may or may not wind up serving the better angels of the series itself. Put us in the camp that Chuck should have ended after a near-perfect second season that was filled with enough unrequited love, geeky references and super-spy intrigue to last a lifetime.
#2: The Office
At this point, calling The Office "a comedy" is probably a bit misleading. Much has been written about how this season has been more depressing than seasons past, but, while true, this turn has just made everything feel more legitimate. These are depressing times, people! The tone aside, has any series ever so effortlessly found ways to use its ever-growing cast of characters? Witness Andy and Erin (Ed Helms and Ellie Kemper as the uncool versions of Jim and Pam), who have gone from also-rans to the MVPs of Dunder-Mifflin in just one season. Well into season six, the most striking thing about The Office is that it manages to keep getting better.
#1: Mad Men
If a top-ten list exists without Mad Men ranked first, does it cease to be a top-ten list? When it comes to Mad Men, there isn't much left to say—how many times can you read about Jon Hamm's brilliance or the show's impeccable writing without going cross-eyed—except for the simple truth that Matthew Weiner has even outdone his mentor David Chase. The third season of Mad Men was better than any season of The Sopranos. There is currently nothing even close to this good on television.