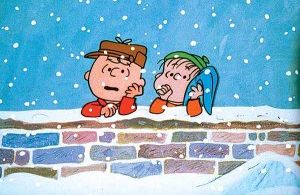 Tired of clicking around YouTube and iTunes for online videos of substance? Search no more! The Observer has your weekly handy guide to what's worth watching on the Web.
A Charlie Brown Christmas on Hulu — Apparently there is a "War on Charlie Brown Christmas Specials!" Last week, President Obama's speech on Afghanistan bumped A Charlie Brown Christmas from CBS' scheduling, which some people thought was a kind of conspiracy. Anyway, this holiday classic featuring that charming, round-headed boy was recently added to Hulu, so parents need not worry about the kiddies missing out this year. It's only available until Jan. 1, 2010 so get in your movie night before the New Year.
The Future of New York on Big Think — What will New York look like in 10, 25, or even 50 years? The city in constant reinvention is examined by experts for Big Think's "The Future of New York City" video series. Deputy Mayor Bob Lieber, novelist Paul Auster, an environmental activist, and more offer up some predictions, explaining how New York will become more "green" and warning that its reliance on Wall Street could turn us into Detroit.
The 10 Most Innovative Viral Video Ads of 2009 —Wondering how to make your little YouTube upload an online hit? You might want to check out some of these brilliant viral videos assembled at Mashable. Our favorites include this one for Volkswagen that encouraged people to take the stairs instead of the escalator, and another featuring a baby dancing to a Beyonce's "Single Ladies (Put a Ring On It)," that pumps ad revenue and donations into his college fund. Brilliant.
BBC's Pedigree Dogs Exposed — This heartbreaking, controversial documentary caused a national upset in Britain when it was originally aired last summer. The hour-long film explores, as one expert put it, how we are breeding pedigreed dogs "to death." "Dogs are falling apart," one expert said. "The number of genetic problems are increasing at a frightening pace." BBC refused to air coverage of the annual Crufts dog competition (the U.K. equivalent of the Westminster Kennel Club Dog Show), according to the Guardian. Although Ofcom, the communications watchdog agency in the U.K., claimed that the documentary did not give the Kennel Club adequate opportunity to respond to the allegations in the film, the documentary forced the Kennel Club to change many of its policies to ensure better canine health (here's a list of some of the changes). The documentary is going to premiere in the States tonight on BBC America at 8 p.m., but you can watch it on MySpace now (not for the faint of heart).
Open Season on Native American sexual assault survivors — More than one in three Native American women will be raped in their lifetime, according to Amnesty International. Open Season is a shorter version of a full-length documentary that explores women survivors of systematic sexual assault; it includes interviews with experts, advocates and the women themselves. Some experts in the film argue that U.S. law enforcement has failed to protect these women or to prosecute their assailants. The film was created by Raquel Chapa, an N.Y.U. graduate and art and film curator who worked on an art show titled Native Voice, which opened in Brooklyn in the spring of 2008. She has also worked in Indigenous Collections at the Museum of Indian Arts and Culture in Santa Fe, New Mexico and the Smithsonian National Museum of the American Indian. Acknowledgment and support of her short film will be paid to organizations, communities and leaders that are working to end sexual violence against Native women.