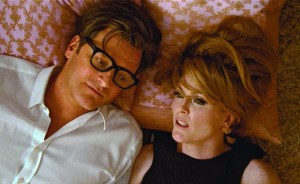 A Single Man
Running time 99 minutes
Written and directed by Tom Ford
Starring Colin Firth, Julianne Moore, Matthew Goode, Nicholas Hoult
Hairy-chested design guru Tom Ford may have learned how to sew a seam straight when he ran Gucci, but that doesn't qualify him to direct movies. Fashion is not film, and A Single Man, his debut feature, proves it. A film is more than 27 buttons and a skirt spread like a fan. It needs life and emotion and the beat of a human heart. Most of all, it must tell a story. A Single Man has style without content; careful camera movements reflecting dead air; manicured sets that look like pristine floor models nobody lives in; and a narrative that plays like a one-page outline. As a movie, it has all the life of a boxed pink taffeta sample at Bergdorf that never leaves the stockroom.
Basing A Single Man on a book of elegant minimalism by Christopher Isherwood about a day in the life of a 52-year-old homosexual grieving for the loss of his younger lover, Mr. Ford deserves admiration for putting literature on the screen, and filming anything by Isherwood is a noble pursuit. But this one is coy and cold as marble. It goes nowhere, and goes nowhere so slowly that it seems to take forever. (Isherwood's Down There on a Visit would have been a better choice.) It has a poetic feel and a lustrous look, but despite the avalanche of prissy interviews that threaten to bury Tom Ford in his own pretentiousness, the director's contribution seems little more than tangential. (Mr. Ford, a famous perfectionist, tells the press this is the least calculated thing he's done, yet everything about it is as calculated as matching cuff links.) Colin Firth, a risk-taking actor with a portrait gallery of diverse etchings to his credit, has never looked better, more dapper or fit than in his impassioned portrayal of a gay English professor transplanted from England to sunny California in the 1960s who loses his reason for living, but what he sees in the mirror is not so much a face as an expression of a predicament. The day drones on in a fog of nihilism as he pretends to carry on a conversation with a colleague about the Cuban missile crisis while gazing at the shirtless chests of nearby tennis players. Julianne Moore drops in for a brief cameo as a gin-guzzling best friend and former fling, still hopelessly in love with a man who is emotionally unavailable. The lover (Matthew Goode) appears briefly in flashbacks. But it is Mr. Firth, elegant in his horn-rimmed privacy, fresh from the hairdresser and exquisitely dressed in a perfect suit (designed by Tom Ford, natch), who commands and holds attention. This is his most sensitive, nuanced and heartbreaking performance since Apartment Zero, but the film cares more about accessories than the man who wears them.
Unfortunately, the script calls for more reacting than acting, and as a study in the psychological tortures lonely, closeted gays were forced to endure in the ignorant shadows of the pre-AIDS past, Brokeback Mountain got there first. Middle-aged gays no longer commit suicide or pay for their sins with a trip to the convent or the morgue, so after you cheer Mr. Firth for finding a sexy, sensitive student (Nicholas Hoult) with compassion and caring who spends the night on his sofa and shows signs of wanting more tenderness at breakfast, you want to boo when the older man suddenly and inexplicably drops dead. Did I miss something? Maybe I'm the one who dropped dead. At any rate, nothing of the kind ever happened in Isherwood's book, so why dick around with perfection?
As a movie that never brightens, about a man nursing a hurt time cannot heal, A Single Man flat-lines right before your eyes. It's about grief and sadness, but you don't care about anybody in it. With music only slightly less sluggish than Mahler (the comparison to Death in Venice in both style and theme is inescapable) and austere to the point of stopping the pulse, it is also boring. It's like watching ice melt. Expensive ice, sure, but at the end you still have a puddle of water. rreed@observer.com