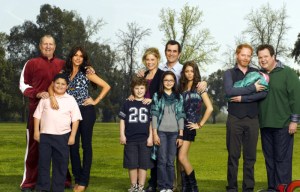 Call us crazy—or maybe a little loopy—but we might be more excited for the Golden Globes than we are for the Oscars and the Emmys combined. Think about it: not only will everyone from our favorite movies (yes, that was a nomination for The Hangover in the Best Comedy category!) and television shows be together—at tables filled with booze—but Ricky Gervais is the host. As much as we love Alec Baldwin and Steve Martin, it's hard to imagine them being able to top that combination of events.
Regardless of the lack of respect the Golden Globes get as a whole in some circles—as New Jersey Star-Ledger television critic Alan Sepinwall condescendingly tweeted after the announcements: "Trying to parse any kind of meaning out of Golden Globe noms or awards is pointless. It amazes me we take them as seriously as we do"—the nominations still mean something to… someone. Like, the rest of us! Putting the film selections aside for the moment (Julia Roberts for Duplicity, really?), here's a peak at three of the biggest stories from the world of television.
Come on! Entourage again!?
It's official: Doug Ellin must have pictures of the Hollywood Foreign Press in compromising positions. For the sixth year in a row, the maligned HBO comedy series was nominated in the Best Comedy Series category (along with 30 Rock, Modern Family, The Office and Glee). For those keeping score at home, that means Entourage beat out such favorites as (deep breath!): Parks & Recreation, Party Down, Community, How I Met Your Mother, Cougar Town, Better Off Ted, Nurse Jackie, The United States of Tara, Bored to Death and Curb Your Enthusiasm. Phew! While we're pretty sure a nomination for any one of those series would have been greeted with more acceptance than Entourage, the inclusion of the HBO series does make you realize how many great comedies currently air on television. Hey, what do you want from us? We're looking for a bright side here!
New Show Showdown: Glee vs. Modern Family!
Historically, the Globes love picking the new kid on the block—America Ferrera, Jon Hamm, Mad Men—but this year that decision will be harder than usual since both new kids are in the same category. Glee and Modern Family have been the two most-revered new series of the fall and both scored nominations for Best Comedy Series. Which will wind up winning? Give us Glee, if only because of its multiple acting nominations (Matthew Morrison, Lea Michele and probable Best Supporting Actress-winner Jane Lynch). Of course, whether or not NBC will let Glee accept an award on their network is a different story altogether.
No More Drama… for the networks!
Who knew Mary J. Blige was so prescient! With the exception of House, no network series found its way into the Best Drama category (the other nominees are Mad Men, True Blood, Dexter and Big Love). Worse, however, is that it's hard for us to find any network shows more deserving—our inner fanboy would have loved to see Lost in this category, but even we would acknowledge that its fifth season was slightly disappointing. Not that the nominees here matter, of course: we figure they'll all run a distant second to Mad Men.