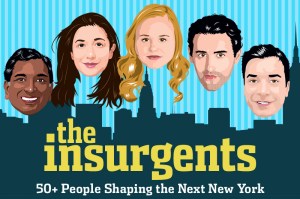 New York, meet the punks who will make this city hum again…
No need to recount the misery of the past decade. We know it was bad; we lived it, too.
It's time to shake off all that dark history. Meet The Observer's Insurgents—the young New Yorkers who are storming the barricades of the old in each of the areas we care a lot about: media, politics, business, culture and style. Many of them—like the trio of TV-ready butchers in Brooklyn or the Wall Street blogger who is inflaming old-line CEOs—are people you've probably never heard of, which speaks to the amazing opportunity in 2010 New York: For a city with as many unspoken rules as this one, New York has never been as conquerable as it is today. Old leaders and old ways of thinking are discredited; the voters are eager to be led; consumers of media and fashion and the arts are on the hunt for new voices.
Signs of optimism are way past due. Rarely have we seen such a power vacuum in a city that absolutely abhors such a thing. The 9/11 attacks gutted us, and then the wrenching Wall Street meltdown did it again. Old culture leaders were flayed (Howell Raines) or killed off entirely (Dick Fuld), leaving a gaping hole in New York's power structure.
While the city didn't die in the Aughts, it certainly lost its way. And for the past year or two, as Wall Street collapsed, high-rises were shelved or shuttered and every other magazine seemed to close, we've wondered whether we were ever going to find our way out.
This list is our way of moving things along. Some of the Insurgents—like Emma Hearst or Vladimir Restoin-Roitfeld—are the children of people who used to be big. But being born on third isn't enough to make you an Insurgent.
Insurgents think of things we didn't think about or were too lazy to mull over much. They have the spirits of street fighters. But whether you like them personally doesn't really matter. That economy that flattened dreams all over? It emboldened them. (For a visual representation of where the Insurgents fall in the new pantheon, check out our nifty pullout, which begins on page 12 of the print edition.)
The Insurgents may not know it yet, but they're about to remake this town in ways many of us can't even fathom. We don't know which ones will thrive and which ones will flame out. But what we do know is this: It's going to be a hell of a show.
—The Editors
BUSINESS
Bess Levin, 25: Dealbreaker.com editor
Lockhart Steele, 35: Founder, Curbed Network
Jared Seligman, 23: Senior Vice President, Prudential Douglas Elliman
Chris Dixon, 38: Co-founder of Hunch and the Founder Collective
Helena Durst, 32: Vice president, the Durst Organization
Vishaan Chakrabarti, 43: Director, Real Estate Development Program at Columbia's Graduate School of Architecture, Planning & Preservation
Paul Steely White, 39: Executive Director, Transportation Alternatives
Kevin Warsh, 39: Board of Governors of the Federal Reserve System
Keith Meister, 36: Vice chairman and principal executive officer, Icahn Enterprises
Wes Moore, 31: Associate, Citigroup Global Markets
Veronica Mainetti, 31: Head of U.S. Operations for Sorgente Group
Jonathan Gray, 39: Senior managing director of the Blackstone Group
Dennis Crowley, 33: Co-Founder, Foursquare
MEDIA
Daniel Zalewski, 38: Features editor at The New Yorker
Nate Westheimer, 26: Head of New York Tech Meetup
Matt Taibbi, 39: Writer, Rolling Stone; blogger
Andrew Ross Sorkin, 31: Reporter, writer, TV personality
Ricky Van Veen, 28: Chief executive, Notional
Brooke Hammerling, 35: Founder, Brew Media Relations
Chris Balfe, 31: Mercury Radio Arts
Megan Lynch, 30: Editor, Riverhead Books
Pamela Wasserstein, 31; Ben Wasserstein, 28 Publishers, New York magazine
Josh Tyrangiel, 37: Editor, BusinessWeek
POLITICS
Reshma Saujani, 34: Candidate for Congress
Ben Kallos, 28: Tech entrepreneur
Neal Kwatra, 36: Political director, the Hotel and Motel Trades Council
Arthur Leopold, 21: Fund-raiser
Andrew Hoppin, 38: Chief information officer, New York State Senate
Liz Benjamin, 37, and Maggie Haberman, 36: Reporters
Emma Wolfe, 32: Chief of staff to Bill de Blasio, public advocate–elect
Dan Squadron, 29: New York state senator, 25thDistrict
Steve Levin, 29: Councilman-elect
CULTURE
Leanne Shapton, 36: Illustrator, artist, author
Geoff Bartakovics, 32: CEO, Tasting Table
Jorma Taccone, 32: Writer-director
Jimmy Fallon, 35: Host of Late Night with Jimmy Fallon
James Franco, 31: Actor/writer/student/performance artist
Molly Crabapple, 26: Artist-illustrator
Michael Weber, 31: Screenwriter
Jay Van Hoy and Lars Knudsen, 34 and 31: Founders, Parts and Labor
Klaus Beisenbach, 45: Incoming director of P.S. 1
Nicola Trezzi, 27: U.S. editor, Flash Art International
Danielle De Niese, 30: Singer, Metropolitan Opera
STYLE
Vladimir Restoin-Roitfeld, 25: Curator
Jonathan Butler, 40: Brownstoner blogger and market organizer
Sylvana Soto Ward, 28: Director of events, Costume Institute gala
Dree Hemingway, 22: Model and literary scion
Robert Hammond, 40: Artist/fund-raiser
Tom Mylan, Ben Turley and Brent Young, 34, 29 and 27: Proprietors, the Meat Hook