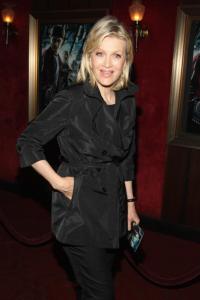 Diane Sawyer takes over ABC World News Monday night, joining Katie Couric as a female face for the nightly news—a momentous thing in the male-dominated world of news anchordom.
And as women, there are several questions Sawyer and Couric are bound to inspire: What will they wear? And how much will we care?
Women's Wear Daily talked to designers to learn more about the anchors' style choices, their relationships with the fashion world, and their potential power:
Isaac Mizrahi observed, "I really do think that they're going to influence fashion. I know every time I see Charlie Gibson and Tom Brokaw on TV I say to myself, 'I have no good ties,' or when I see George Stephanopoulos: 'He has great lapels. Why do mine look so shoddy?'"
A proud day for lady journalists: their wardrobes now command the same respect as Charlie Gibson's ties.