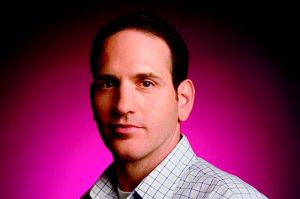 Last week, Josh Cohen, Google News' senior business project manager, was in Washington, D.C., at a Federal Trade Commission-organized workshop titled "How Will Journalism Survive the Internet Age?" He appeared onstage before a crowd of journalists, entrepreneurs and F.T.C. policy lawmakers in a slate-colored jacket, white shirt and black patterned tie. Heavy navy cur-tains and an American flag hung behind him.
He gave a speech-one he has made over and over again to publishers-about how Google helps the beleaguering news business. Google News sends publishers about one billion clicks per month. Google AdSense served up more than $5 billion in revenue for Web publishers last year. YouTube, Google Maps and the search engine itself are daily resources for journalists and TV broadcast-ers.
Despite all this, Google has been branded by some publishers as Enemy No. 1 in the battle over content-who owns it and who profits from it.
At the forefront of that campaign, in recent months at least, has been News Corp. chairman Rupert Murdoch, who also appeared at the workshop. In Washington, he gave a short speech offering three survival tactics for news organizations: innovation, fewer government regulation roadblocks and, of course, convincing users that "high-quality content cannot come free." (Message to you, Google!)
In fact, Mr. Murdoch has been on a tear against Google, threatening to pull News Corp. content from its indexes. At one point he was rumored to be discussing a content deal with the search en-gine's top competitor: Microsoft's Bing.
Yet Mr. Cohen insists that Google News' relationship with News Corp and other publishers is good-great even. Although he hasn't actually spoken to Mr. Murdoch himself.
"I certainly haven't heard specifically from Rupert Murdoch-he's above my pay grade," Mr. Cohen said in an interview with The Observer at Google's New York office.
Mr. Cohen isn't a headline-grabbing media executive like Mr. Murdoch or Google chief executive Eric Schmidt, who recently published (in The Wall Street Journal, no less) a kind of rebuttal to Mr. Murdoch's complaints. Rather, he's the behind-the-scenes Google News guy, working from his office in Google's Chelsea outpost and sitting in fairly staid meetings with business representa-tives and editors from heavy hitters like The Wall Street Journal, Financial Times and The New York Times, explaining how Google News' secret sauce of an algorithm works-why one story might get promoted over another based on its source, traffic numbers or the time it was posted, and how else the service might increase their ad revenue.
He does have an opinion about the controversy between Google and various publishers.
Mr. Cohen says it's mostly a media concoction that "makes for a good story."
MR. COHEN, a mild-mannered 40-year-old who was raised in New York (a Fieldston grad!) and currently lives on the Upper West Side, used to be on the other side of the debate. He was vice president of business development at Reuters Media and was responsible for partnership agreements with AOL, Google, MSN, Yahoo! and others. Before joining Reuters in 2004, he was di-rector of business development for SmartMoney.com, where he led strategic partnerships and licensing activities for the joint venture between Dow Jones and Hearst.
He joined Google in April 2007 and was charged with keeping publishers happy. He answers daily emails about Google News from publishers' sales departments, editors and policy makers; helps broker content-licensing deals; and listens to gripes and searches for solutions with engineers. He spends most of his time far from the heated arguments over Google News that are hashed out on media blogs, and explaining to reporters, publishers and Google's own managers exactly how Google News could be one among many solutions to the media's business problems.
"The vast, vast majority of publishers recognize that we're a real partner in these challenges," he told The Observer. Mr. Cohen said he is one of many Google executive who have daily conversations with publishers–from newspapers and magazines to modern digital media sites–on how to increase traffic, keep users engaged and bring in revenue by using Google platforms. In his view, Google News is a friendly pal giving a leg up to news outlets.
Mr. Cohen explained recent changes to Google News that he said were "not pegged to specific events" (like, say, Mr. Murdoch's public bashings of his company) but were based on discussions with many publishers over the past several months.
One change allows publishers to wield more control over their content on Google. Previously, Google News allowed publishers to insert a line of code in the back end of their Web sites to block Google's robots from crawling their content. Now publishers can instruct Google crawlers on what they can and cannot grab and index. "Want to block images from Google News, but not from Web Search? Go ahead," Mr. Cohen wrote last week on Google News' official blog. "Want to include snippets in Google News, but not in Web Search? Feel free."
Another feature updated Google News' "First Click Free" service. For publishers who have a paywall (like The Journal), a Google News user is allowed to click on one article per day and read it for free. Once she clicked on other pages, though, she's faced with a registration or paywall window. First Click Free allowed publishers to get much needed traffic from Googlers searching for news. Meanwhile, users could read an entire article for free before having to register for anything
But there was a loophole in First Click Free that had some publishers in an uproar. Some users could read as many articles as they wanted by finding an article's headline in Google News, search-ing for the headline's text in Google and clicking through to find the full text of the piece. Clever kids had unlimited access to paywall sites without having to spend a dime.
Now, Google News closed that loophole. Publishers can also opt in to a kind of "Up to Five Clicks Free" service. This gives publishers a little more time to woo users into sticking around and signing up for a subscription.
"You can put up a paywall and still have your content discovered within Google-it's not an either/or proposition," Mr. Cohen told The Observer. He speaks in well-rehearsed sentences that he has clearly repeated ad nauseam. "It's not a question of 'all things need to be free.' There's not a philosophy that that's what needs to happen," he added.
SOME PUBLISHERS MIGHT be resentful that Google has so much control over where readers roam on the Web. And Google knows it must play nice with publishers to keep content flowing into their index. Yet both understand that the relationship, if symbiotic, is sometimes uncomfortable. They need each other because so many of us rely on Google to navigate the world.
Still, Mr. Cohen said he is more concerned with innovating news than with saving print products anchored by traditional business models. "We need to have high-quality information for our us-ers, and they need to be able to find it-nobody questions that," Mr. Cohen said. But he insists that some newspapers are still seeing news in a print frame of mind, and that it's not Google's job to sustain newspapers in their print-media prison.
Which explains why Google News is working with publishers to experiment in the modern media world.
On Sept. 14, Google partnered with three dozen publishers, including The New York Times, The Atlantic, Salon.com and ProPublica, and launched a digital content browsing platform called Fast Flip. The service allows users to eyeball bundles of recent news, headlines and feeds from top publishers, who provide screen shots and graphics of their articles. Users get a preview of the article through Fast Flip and can click on links to go directly to the publisher's site. Fast Flip also aims to personalize the experience by showing users more content from sources, topics and journalists that they might like.
Google is sharing ad revenue with publishers who are on the service, which is a new model for Google. Still, Martin Nisenholtz, The New York Times' senior vice president of digital operations, told PaidContent in September that "there's no grand plan here, nothing more to this other than learning," he said. "They're sharing revenue in a way they've never done before. That's positive. But the driver behind our participation isn't financial at this point."
And on Dec. 8, Google launched Living Stories, a new experiment in partnership with The Washington Post and The New York Times that allows users to view comprehensive coverage of an ongoing story gathered together on a single, dynamic page. Users who want to read about health care in The Times or fixing D.C.'s schools in The Post can now view breaking news, opinion pieces, photos, videos, multimedia content, and timelines on each story at a static URL.
Google is also working on creating a micropayment system and other technologies built off its Google Checkout product for publishers.
Still, Mr. Cohen is the first to admit that Google, despite extending its myriad efforts, won't provide all the solutions publishers are looking for as a way out of the current crisis.
"There are a number of factors of why newspapers are facing these issues today," he said. "I mean, pick any one, whether it's declining circulation rates, migration of classified ads, we could spend a half an hour. There's no one single solution, as in there's no one single cause for it."
Tell it to Mr. Murdoch.
greagan@observer.com
Follow the Observer on Twitter!
More on Google from Gillian Reagan:
Google to Newspapers: Think We're Stealing from You? Fine, Don't Show Up in Searches
Google Books' Wacky Magazine Archives