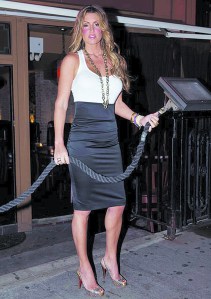 Tiger Woods' fourteen (and counting) alleged mistresses include a hooker, a bartender, a "reality"-show star, a cocktail server, a Las Vegas nightclub manager, a British TV presenter, an Orlando diner waitress, a bikini model, and a couple of porn stars: transient "glamour" occupations, inflated body parts and alliterative names all confusedly blending together.
And then there is Rachel Uchitel, the alpha gal of them all: A mysteriously powerful honey-brunette in shades and designer clothing who met Mr. Woods through her job as a "VIP nightclub hostess." Press outlets have variously referred to Ms. Uchitel, 34, as a party planner, a club promoter, a New York socialite, a nightclub waitress and a professional party girl. None of these, however, accurately describes what Ms. Uchitel actually did for a living.
"People have actually gotten very interested in this profession and what she used to do exactly," said Hector Longoria (no relation to Eva, though "we're from the same town in Texas"), the "director of guest services" at the Griffin on Gansevoort, where Ms. Uchitel had the same title. "Our job is like a concierge service for nightlife. It's catering to our celebrities, bankers, trust-fund kids, billionaires, anyone who wants that special experience," he explained. "If it's bankers, they might want to be seated next to a bunch of cute girls, so we hire promoters who bring girls in. A lot of it is just making sure they have a good time—arranging a limo driver or going with them if they get too drunk; if they want food, I'll order it; I plan travel and vacations. It's a service—anything they want, I get it for them. Often, I'll gather up a lot of girls and we'll take clients to dinner."
Concierge … service … clients: All corporate-sounding buzzwords that mark the crisp professionalization of a somewhat murky new enterprise that offers considerable profit and perks to its largely female or gay male practitioners.
When The Observer reached Mr. Longoria, he was on his way to Dolce & Gabbana, where he was taking a client shopping. "He's a Wall Street guy, so I'll dress him up, and he'll probably throw me a suit or something. It's easier if you're a woman or a gay man to do this job because I'm not a threat to these guys."
Mr. Longoria also has dinner with clients at least twice a week, phones them at home to check in and accompanies them on vacations when invited.
The job in VIP relations, or "hosting," as it's euphemistically known, was born out of the bottle-service decade, when billionaires and celebrities began to spend $10,000 or $20,000 at a table—or $160,000, as a Malaysian billionaire named Taek Jho Low recently did at the Avenue Lounge in Chelsea—and someone, preferably a busty girl, was needed to provide the sort of hospitality worth spending money on.
"There is so much competition with the different nightclubs to get those big spenders that a lot of high-end nightclubs have set up people like Rachel," said Mike Heller, the longtime nightclub promoter–turned–marketer who is responsible for turning Dune into the Axe Lounge in the Hamptons last summer and booking Lindsay Lohan for various events. "Their job is not to sleep with their client, but to make sure that everything is organized, like a car service, a private jet or a hotel hookup. Rachel has been working in the business for many years and built a great clientele."
'THE UP-SELL'
Ms. Uchitel, whose grandparents ran El Morocco, relocated to Las Vegas after the death of her fiancé in the 9/11 attacks (a New York Post photo of her in full anguish, looking blonder and less pillow-lipped than now, got picked up around the world) and found a job at Tao, co-owned by former boyfriend Jason Strauss, owner of the nightclubs Marquee and Avenue. This is where she built a Rolodex of wealthy and loyal clientele that later earned her work at New York nightspots like Pink Elephant, Marquee, Stanton Social and Griffin.
"We hired Rachel because we knew she had a client base. Even my waitresses here don't get hired unless they have a client list to fill their tables every night," said Rocco Ancarola, the owner of Pink Elephant, which is on West 27th Street.
Mr. Ancarola's other hosts are mostly men, he said. "Rachel as a girl had an advantage because she was wined and dined more than the male hosts. She would have dinner with a client and then call ahead and say, 'We're on our way, I'm coming in with Mr. So-and-So.'"
The job of VIP host(ess) is different from that of a waitress, who actually provides the bottle service; or the promoter, who makes sure women in miniskirts and wobbly heels arrive in droves at the nightclub; or the "models," the girls hopelessly waiting for a Victoria's Secret contract or moneyed husband, whichever comes first.
"Hosts call clients during the day and ask how their night was and get dinner with them and befriend them," Mr. Ancarola said. "These big spenders come in, and it will be four guys and the host will find some girls to sit with them. I do the same thing that Rachel does in my own way with female clients. I'll call up the Marias and the Jennys and the Marys and say, 'Hey, what are you doing, come to dinner.' I'll show up to a restaurant with a group of girls, and it makes me look good to have eight girls with me, and I'll make sure that after dinner, they'll all come to the club."