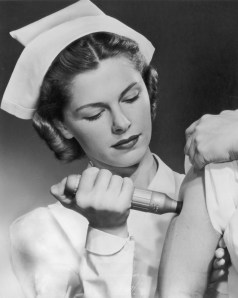 Mary Mundinger doesn't look like a controversial figure.
A small, prim, 72-year-old lady with wispy white chin-length hair, she sat at a drafty table in Viand coffee shop on the Upper East Side on a tepid November Thursday afternoon and made a fist with her right hand, which she gently beat on the table.
"I keep writing the same story," said Ms. Mundinger, softly, round blue eyes staring intensely across the table. "The story is, nurses are important people. They have the skills and knowledge way beyond what the public recognizes in them."
"And, I finally feel like I've got through," she said. "It's kind of like my life's goal is achieved."
For nearly a quarter century, Ms. Mundinger has served as dean of Columbia University's School of Nursing, during which time she has waged a single-minded and often contentious campaign to put nurses on a more equal footing with doctors, in part by creating a new class of nurse practitioners with doctorates, sometimes called "doctor nurses."
Ms. Mundinger is retiring from the deanship next year, but not so she can settle into the lazy senescence of old age. Rather, Ms. Mundinger plans to lobby Congress to fund nurse doctorate education so as to bolster the supply of primary care physicians come the eventual enactment of health care reform.
"If 30 million more people have health insurance, they will seek primary care, and we have a scarcity now," Ms. Mundinger said. "Physicians are fleeing primary care."
And doctor nurses should fill the vacuum?
"Absolutely."
EVER SINCE Florence Nightingale tended to wounded British soldiers in the Crimean War, nurses have occupied a hallowed, and distinctly feminine role on the sidelines of medical care and in the popular imagination (that is, when they're not depicted as sadists). From Catherine Barkley nursing Lieutenant Frederic Henry in Hemingway's Farewell to Arms, to Hana tending to Count Laszlo in The English Patient, writers have a tendency to portray nurses as surrogate mothers, in an Oedipal kind of way: nurturing, wise, gentle, sexy. Not, however, as practitioners who should be directing a patient's health care.
That's begun to change. In current TV depictions like Showtime's Nurse Jackie and TNT's HawthoRNe, the protagonist nurses are wise and nurturing, with amazing interpersonal skills, but also worthy of more authority than they are given, constantly banging their figurative white caps against a figurative glass ceiling. In the first episode of Nurse Jackie, a 27-year old bike messenger dies from an acute subdural hematoma after a churlish young doctor ignores the hard-won wisdom of the protagonist played by Edie Falco. Ginia Bellafante, in the Times, attributes the prevalence of the long suffering, yet talented nurse on this year's television lineup to the economic crisis: "The portrayal is something else for which the class warfare brought on by the financial crisis arguably deserves credit: the enemy isn't any single Dr. Feelgood but the whole infectious culture of entitlement that has enabled his ascension."
Perhaps the presence of Nurse Jackie and Hawthorne is also an acknowledgment of the heights to which nurses have risen, and the authority that the establishment still only begrudgingly cedes them.
Over the decades that Ms. Mundinger has practiced nursing, the profession has undergone a dramatic evolution, one in which she's had a major hand.
A native upstate New Yorker, Ms. Mundinger graduated from the University of Michigan with a nursing degree in 1959, just six years before the creation of the Medicare and Medicaid programs unleashed millions of new patients into a system with too few primary care physicians (sound familiar?). The new government-sponsored health care programs provided the impetus for the development of the first nurse practitioner program at the University of Colorado.
Ms. Mundinger soon after got her nurse practitioner certificate while teaching at Pace University. She proceeded to earn an MA in teaching and a doctorate in public health from Columbia, work briefly as an aide to Senator Edward Kennedy (where she got an immersion course in politics), and publish two books: Autonomy in Nursing (1980) and Home Care Controversy: Too Little, Too Late, Too Costly (1983). In 1986 she ascended to the deanship at Columbia.
As is her wont, Ms. Mundinger began fomenting controversy.
"She's got a goal and if she's thwarted, she'll try to figure out a way to get there through another route," said her husband Paul Mundinger, a biology professor at Queens College.
Or, as Myron Weisfeldt, chairman of medicine at Johns Hopkins, and from 1991 to 2001, chairman of medicine at Columbia, put it, "As a salesperson, she was very expert at appealing to what she believed to be the prejudices of the person she was talking to, while in fact continuing to advance her agenda beyond the grasp of the vision of the person she was talking to. I found that to be very attractive."
In 1994, she founded the first primary care practice run entirely by nurse practitioners, in Washington Heights. Three years later, she founded Columbia Advanced Practice Nurse Associates on East 60th Street, the first nursing school practice where nurse practitioners were compensated at the same rate as primary care doctors.
The blowback was immediate and, in Mr. Weisfeldt's words, "appalling."
MS. MUNDINGER, ever the scrapper, counter-attacked. To forestall criticism that nurses with advanced degrees were not up to the task of providing comprehensive family medical care, Ms. Mundinger proposed a randomized study, something that won her the lifelong support of the aforementioned Mr. Weisfeldt.