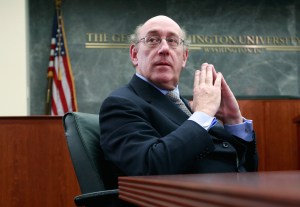 At four companies still under his purview—A.I.G., Citigroup, General Motors and GMAC—Kenneth Feinberg, "pay czar," has decided that employees ranked 26th through 100th (where his jurisdiction ends) will not make more than $500,000 this year, with only specially-approved exceptions. In October, Mr. Feinberg reduced the total compensation for the top 25 executives by about 50 percent.
The decision comes the same day that A.I.G.'s general counsel, Anastasia D. Kelly, was reported to be quitting over Mr. Feinberg's meddling. A.I.G. has been especially unhappy with the czar. Last month, C.E.O. Robert Benmosche threatened to quit, and this week, five employees also threatened to resign if Mr. Feinberg didn't allow for adequate compensation—which led to reports he would reconsider.
Bank of America narrowly missed being included in the group, having agreed to repay its $45 billion on Wednesday.
While Mr. Feinberg has angered executives, he seems to have succeeded in taking the pressure off elected officials to tax bonuses—a proposal that's gaining some currency in Europe. Yesterday, France signaled it would probably join the U.K. in implementing a 50 percent tax.
German Chancellor Angela Merkel, who declined to join the effort, called the tax "charming."