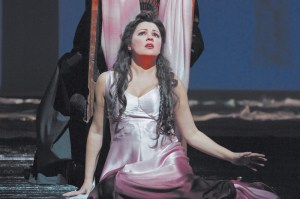 Operagoers got a flashback to 1998 at the Metropolitan Opera last Thursday. It was the beginning of the second act of the Met's new production of Offenbach's Les Contes d'Hoffmann, directed by Bartlett Sher. The curtain rose on an almost bare stage. Against a background of rich, dark blue, a white panel slowly began to descend from the flies.
That white-on-blue image will be instantly familiar to anyone who saw Robert Wilson's minimalist Met Lohengrin a decade ago. During the Hoffmann, though, the visual echo served only as a reminder of the Wilson production's focus and coherence, which Mr. Sher's work sorely lacks. His Hoffmann is muddled and meandering, a jumble of half-baked ideas that feature prominently in his program note but are strangely absent onstage.
Mr. Sher's production started with Offenbach's biography. The composer's father was a cantor; Offenbach himself converted to Catholicism in 1844, a decade after moving from his native Germany to Paris, where he became the fantastically popular creator of almost 100 operettas, the comic musicals that were the hit of France during the Second Empire. Les Contes d'Hoffmann, which inserts the real-life German writer E.T.A. Hoffmann into Hoffmann's own stories of ill-fated love, was his final work, and his first to aspire to serious "grand opera" status.
Mr. Sher views the composer as an archetypal outsider: a Jew who wanted to be accepted as a Gentile, and a composer of light, frothy operettas who wanted to be a accepted as a "serious" artist. Hoffmann the character, unsatisfied by love, is for Mr. Sher a reflection of Offenbach, who was unsatisfied in religion and art. There could be quibbles about the judgment that Offenbach thought of himself as a religious outsider—he was the object of some venomous press after the 1871 Paris Commune, but this seems due more to anti-German than anti-Jew sentiment—but his sense of himself as having been successful only in a "lesser" genre like operetta feels right.
But other things feel wrong. According to Mr. Sher's program note, "for both men"—Hoffmann and Offenbach—"questions of identity, sexual obsession, and longing for acceptance all swirl within the dreamlike landscape of these fantastic stories." Wait a second: What are Hoffmann's "questions of identity"? What is Offenbach's "sexual obsession"? (He was happily married.) This total conflation of composer and subject is misleading, and it's at the heart of the production.
And the director doesn't stop with the ties between Offenbach and Hoffman. He connects the thematic dots, as if it were logically inevitable, to Kafka, who—wait for it—was also a Jew! This is indeed true, but Mr. Sher could just have easily have chosen Norman Podhoretz. Kafka, according to Mr. Sher, is a better fit, because he was not only a Jew, but was also "at the forefront of an explosion of writers, painters, and composers seeking to reinvent how we think of narrative or of a canvas, or even the way we hear music." It's unclear to what and whom he's referring, but apparently part of that explosion was Fellini, who was not only interested in "non-linear" art but was—like Hoffmann and, apparently, Offenbach—"obsessed with women." (There's no mention here of Kafka, who was by far the most sexually obsessive of all these men.)
This tenuous web of connections wouldn't seem so ridiculous if Mr. Sher's production had a fraction of the originality of a Kafka novel or the exuberant weirdness of a Fellini film. But, indeed, none of Mr. Sher's intellectual framework finds its way into the finished product. Hoffmann—the so-called "outsider"—may be a touch grumpy, but he gets along well with most everyone onstage. He's popular in Luther's tavern, where the prologue and epilogue are set and where his fellow drinkers wonder where he is and ask him to sing for them. And there's little sense in the production that Hoffmann is much miffed by the disastrous endings of all three of his love plots, perhaps because Joseph Calleja, though a fine singer, is an entirely unevocative actor.
Executing a production that really dealt with the relationship between Hoffmann and the crowd would have also involved actually directing the chorus, rather than uselessly clumping them upstage. And if Mr. Sher had wanted to present a work about nagging self-hatreds and deep disappointments, he might have worked with his singers on psychological nuance, which is almost entirely absent unless you count a seizuring Anna Netrebko stuffing paper in her face.
Are the men in bowler hats supposed to evoke Kafka's Prague? Are the umbrellas emblazoned with huge eyes Felliniesque? If so, they're half-hearted gestures at best. The production isn't set recognizably in Offenbach's time, nor Kafka's, nor Fellini's. It takes place in the nonspecific nowhere that characterizes post-Zeffirelli productions at the Met, consciously avoiding both detailed realism and Robert Wilson-style abstraction. Mr. Sher promised a "dreamlike" production, and once in a while, generically "surreal" things happen. Three or four actors dressed like Hoffmann march onstage; a few sheets of paper periodically drift down from the flies; when Hoffmann's friend Nicklausse sings an aria about a violin, a violin magically and cheesily appears behind a scrim.
There are some beautiful moments—arresting backdrops of a grand opera house interior, the Venice of the third act imagined as a sweep of lanterns. Mr. Sher and designer Michael Yeargan should have left the lanterns alone. But they are joined onstage by the silhouette of a Venetian building and a huge swath of silvery fabric, and the overall effect isn't worthy of the Met: it's provincial schlock, and all the references to Kafka and Fellini can't change that.
But this is Peter Gelb's Met, in which no marketing blurb can pass without a tendentious connection drawn between opera and the more popular arts of literature and film. Hitchcock's name kept popping up in the P.R. for Luc Bondy's season-opening Tosca, though it is unclear what, if anything, was the great director's relevance, besides telegraphing to film buffs that they should give opera a try. There's nothing wrong with that, except for the problems inherent in suggesting, both in the press materials and in the focus on the HD broadcasts, that film provides the best point of comparison for opera—even that film is somehow superior, that opera at its best should aspire to the status of a good movie. Mr. Gelb is the real Offenbach here, as desperate to demonstrate the Met's coolness as the composer was to prove that he could write a serious opera.
As far as good movies go, the punch line is that the Met will be, well, tastefully editing the HD broadcast of Hoffmann on Dec. 19. The company made the rather stern announcement on its Web site that the broadcast "will not include the partial nudity seen in the stage production." These HD broadcasts are ostensibly bringing in new, younger audiences, but some pastie-covered breasts—used in the production to telegraph "edgy" "sensuality"—are apparently beyond the pale. Censoring non-nudity? Yeah, the Met sure is hip.
zwoolfe@observer.com