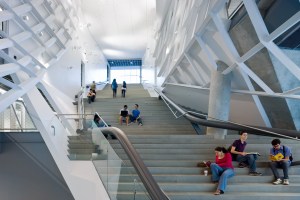 The timing of architecture reviews is a mystery. The Cooper Union building has been open for months–The Times reviewed it in June–but the Wall Street Journal is just now weighing in.
To date, the outside of the building has gotten most of the attention. Local residents have opposed its size and said its hulking waves are out of context for the neighborhood. Lately, its exterior rises doubled as a BMX ramp and a slide.
But the Journal's critic, the esteemed Ada Louise Huxtable, is more interested in the interior. Ms. Huxtable compares the staircase at the building's center to "some wildly updated, indoor version of Rome's Spanish steps or a more rational and cheerful Piranesian invention, it is a knockout, an überstair for the 21st century."
Oh, she's not done. The last three paragraphs are all about the stairs, and she ends with this little ode.
Daylight pours down from a skylight at the top. This is high architectural drama, a luminous and exhilarating invitation into the structure's life and use. It is not building as bling. It is how architecture turns program and purpose into art. And it perfectly expresses the creative energy of New York.
I think she likes them.