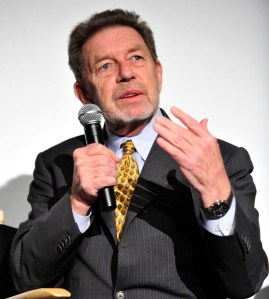 All-star old-school newspaperman Pete Hamill gave an interview to the Syracuse Post-Standard yesterday, in which, of course, he reflects on the dying newspaper business, and the problem with internet news.
Lamenting the loss of the bookstore/record shop/newsstand browsing mentality, Hamill said the variety of media people are consuming has fallen:
I think there will be 10 different sites. Most readers will pick the one they like, such as they do with networks and cable news. They'll pick the site they're more comfortable with. They won't go to all 10.
But aside from the immediate questions of how people consume their news, there's the question of instituional memory—the historical record that physical papers offer:
I'm so concerned with morgues and libraries of the newspapers. I know from writing historical novels, one of the great sources is bound volumes (of newspapers). They tell you all the detail that historians don't. How much was a pair of shoes. What did a guy pay to go to the ballpark in 1934 during the Depression. How many people where there? The detail, you could find in the morgues, the bound volumes that have the advertising. At the very least there ought to be grant money somewhere to scan every page of it.
And, the most fundamental problem:
The Huffingtonpost.com does not pay its writers. Tina Brown's thedailybeast.com does pay its writers. You have to be paid because this is not a hobby. You have to keep that standard. You can't ask grandpa to loan you money because you have to go to Afghanistan. I walked the picket line for that to continue.
Hamill also discusses Brooklyn, Bolano, writing fiction, and studying painting–read the rest here.