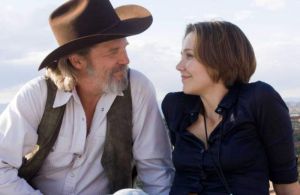 With the calendar turned over to December and the Carpetbagger blogging once again (now with a new Bagger!), awards season has officially started. And to that we say: finally. In an effort to get a jump on the equally irrelevant Golden Globes, Film Independent announced the nominees for the 25th annual Spirit Awards yesterday afternoon. Of course there were the obvious choices (Precious tied for the most nominations with five, including Best Feature) and some head-scratchers (if you were looking for that nomination for The Hurt Locker, it was eligible and snubbed last year), but despite being anything but a harbinger for Academy Award success, some films certainly gained a bit of traction. Without further adieu, here are the three Spirit nominees that stand the best chance of making waves come Oscar night.
Best Actor: Jeff Bridges, Crazy Heart
Is Fox Searchlight contractually obligated to release one film per year with a veteran actor in a career-defining showcase performance? Last year it was Mickey Rourke who delighted audiences in The Wrestler; this year, it looks poised to be Mr. Bridges in Crazy Heart. For those unfamiliar with the film, consider it The Wrestler gone country. Mr. Bridges plays an aging performer on his last legs hoping for one last… yadda yadda yadda. The film might seem trite, but the buzz on Mr. Bridges—who, as the trailer happily points out, is a four-time nominee—is already borderline deafening. Though Crazy Heart doesn't come out for another two weeks, he already feels penciled in as a nominee and perhaps could be a favorite to take home Oscar gold.
Best Supporting Actor: Woody Harrelson, The Messenger
Call him Jeff Bridges, Jr. The long-beloved Mr. Harrelson has only been nominated once (for The People vs. Larry Flynt), but there is a very good chance that he'll wind up in the running next year. Best Supporting Actor is one of the weaker categories on the docket (lest we forget—and God love him—but people were taking Zack Galifianakis somewhat seriously as a contender for The Hangover), and Mr. Harrelson's work in The Messengers, as a casualty notification agent for the army, has been universally acclaimed. Whether voters actually sit-down and watch the little-seen indie film is a different story, but, hey, that's what screeners are for!
Best Feature: The Last Station
If you've never heard of The Last Station, don't worry: you're probably not alone. But we have a feeling everyone is going to be sure of its existence come Oscar night. The film tied Precious—the ostensible belle of the ball—with five nominations (in addition to Best Feature, nods went to director Michael Hoffman and stars Helen Mirren and Christopher Plummer), and if the early reviews are any indication, the plaudits won't stop there. Our own Rex Reed outright gushed about The Last Station, saying it "should be accompanied by the sound of trumpets" and calling it "passionate, profound and unforgettable." With ten slots to fill for Best Picture, will it surprise anyone when The Last Station shows up on the not-short list?