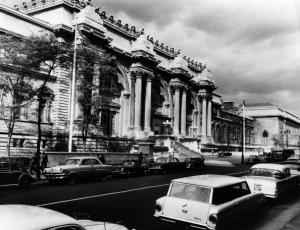 Thomas Hoving—controversial former director of the Metropolitan Museum of Art—died today of cancer, reports author Michael Gross.
Hoving first worked at the Met in 1959, and though he left for a brief stint as parks commissioner, he returned to the museum to become its director in 1967. During his 10 years there, he acquired attractions like the Euphronios krater and the Temple of Dendur, and is sometimes credited with inaugurating the "blockbuster" exhibition. Hoving departed in 1977 to start a museum consulting firm, and told Charlie Rose in a 1998 interview that he returned to the Met "not a heck of a lot."
Discussing the emergence of grand contemporary museum-monuments with Rose, he said, "Why not? Cathedrals had their day. … I think it's a logical progression."
Gross recently wrote a book about the Met, Rogues' Gallery, and on his Web site he calls Hoving a "perennial thorn in the side of the museum mafia," adding:
Even his enemies can agree that Hoving was never, ever boring. It will be fascinating to see how he is mourned after decades as the target of "official" disdain.
"I'm a goner," Hoving reportedly told Gross in July. "But I have no regrets. I've had a terrific life."