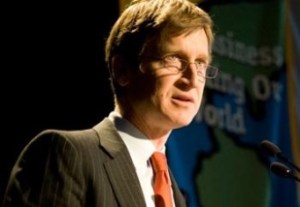 Time Inc.'s John Squires is making it official. The five-publisher strong alliance between Time Inc., Conde Nast, Hearst, Meredith and News Corp is starting work today on building the most comprehensive digital store for publishers.
As the Observer reported in November, the company will prepare digital versions of magazines that can work on multiple platforms, from the iPhone to the BlackBerry to digital devices that don't even exist yet.
Mr. Squires, an executive vice president at Time Inc., is planning to leave Time Inc. and become the managing director of the new company while the group will searches for a permanent executive.
What will this digital magazine store look like?
In an interview this morning, Mr. Squires said the format will be a "highly functioning, beautiful reading application similar to what you saw for Sports Illustrated or Wired." That means colorful, interactive digital magazines that can be updated in real time and personalized for individual users and advertisers. "We're going to enable that kind of product experience or reading experience across as many publications as possible," he told the Observer.
Mr. Squires said he is in talks even more media companies to join the venture, but didn't name names just yet.
Mr. Squires said he plans to work closely with advertisers to develop new immersive experiences on these digital magazines. "We have the potential to create a new and vastly important branding medium for advertisers in a way that has never been done before," he said. Signing on some ad sponsors for launch will be one of the company's major focuses during the next year.
As far as the iTunes-like digital storefront, Mr. Squires has a tagline to describe it: "easy access, easy purchase, easy download." He wants users to get universal access to their digital purchase on any device they like.
Mr. Squires wasn't able to give specifics on what kind of pricing or bundled packages the store will offer, "We've got a lot of work to do, we're really just getting going," he said.
Well, what if users want to be able to get, say, a subscription to digital magazine and the print magazine, as well as the publication's paywalled Web site, all in one purchase? It certainly won't be a universal pricing system, like Apple iTunes' original $.99 per song standard.
"It's hard to imagine how the Wall Street Journal will be the same price as This Old House," Mr. Squires told the Observer. "Clearly, that's going to be up to the publishers–setting their own pricing."
He said the company will work with start-ups and partnering companies' digital departments to build the technology.
"We're going to need as many resources as we can get," he said. "Building this middleware and this platform will be technically challenging. There's a lot of work to be done to get it right and big enough to work with companies at this scale, with very very large circulation products."
He said the company will also have to work closely with hardware companies to make sure they're building the right product for the platform. "We have to work in close coordination with the hardware companies," he said.
Are they working with Apple?
"We all call, we don't get a lot of return calls," Mr. Squires said.